SUNSAY Vietnam Dryer Company is one of the prominent names, known and trusted by customers nationwide in the field of providing drying and preserving solutions for food, agricultural products, agricultural dryers – industry. Currently, the unit provides users with many different types of dryers on the market. Each product meets the unique requirements of users, suitable for each object and brings high efficiency.
Which dryer company is reputable in the market?
When science and technology is applied more and more widely and in agricultural and food production activities, that is also the time when drying equipment becomes more popular. A lot of drying equipment such as food dryer, multi-function drying machine, horizontal dryer, reversing dryer … serve the maximum needs of customers. Along with that is the appearance of a series of enterprises producing and distributing dryers.
Prominent in today's market, it is impossible not to mention SUNSAY Vietnam – an expert in the field of providing solutions for drying and preserving food and agricultural products. Highly appreciated and trusted by experts and customers across the country for many years, SUNSAY Vietnam is one of the leading dryer companies.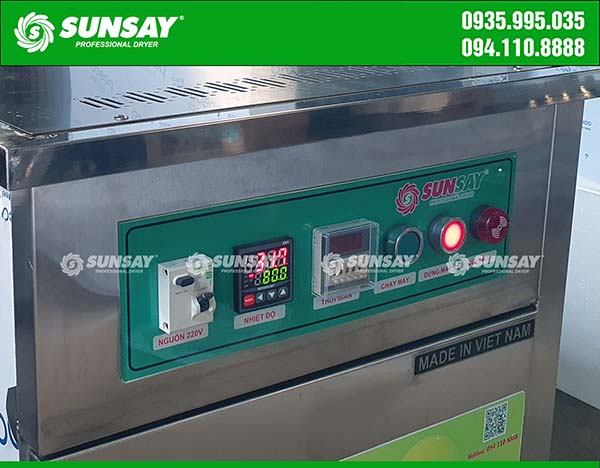 In addition to providing versatile drying products for agricultural production and food production, SUNSAY Vietnam also consults and installs large-scale industrial drying systems such as tower dryers. , rotary drum dryer, industrial refrigeration dryer, solar drying system…
About the brand SUNSAY
With more than 10 years of experience in the industry of manufacturing and manufacturing high-end agricultural and food drying systems, SUNSAY is the market's leading brand of popular dryers. The outstanding lines of dryers under the SUNSAY brand can be mentioned as refrigeration dryers, sublimation dryers, food dryers, fruit dryers, horizontal dryers, rotary drum drying equipment, etc.
SUNSAY drying machine company has a team of engineers, employees, experts in the field of providing solutions for drying and preserving food and agricultural products with many years of experience. All with the motto: dedicated to customers. It is also for this reason that now we are always trusted, feedback and highly appreciated by customers for quality. This is also one of the reliable addresses of all users when there is a need to buy dryers, especially drying equipment for production facilities with high capacity.
Highlights of SUNSAY products
Products under the brand name of SUNSAY dryer company are applied with advanced cold drying technology from Europe, which helps to reduce drying time, save energy, but the finished product always fully meets the quality criteria. food safety and hygiene at a strict level.
SUNSAY drying machine is made from high quality metal materials, foreign imported machinery system helps the product to operate stably and durable, with low error rate. The machine is easy to operate for users, meeting all the needs of customers in all segments: from production households, cooperatives, purchasing and processing establishments to large-scale food production enterprises. large tissue.
Despite possessing many modern and outstanding features, SUNSAY brand dryers have the ability to save energy and limit environmental pollution, so they are very popular. This is extremely necessary and important, especially in today's modern society. Because environmental pollution is a very painful problem for modern society.
With all the above reasons, SUNSAY Vietnam is the first choice of many users, production and business facilities as well as business units. Products at the unit also have extremely affordable prices, meeting all financial requirements of customers.
Contact method to order dryer SUNSAY
In addition to food dryer, SUNSAY Vietnam also provides other types of dryers such as: frefrigeration dryers, rice dryers, and horizontal dryers, sublimation dryers, …
Please contact Hotline (Zalo): +84 935.995.035 or call center +84 941.108.888 or leave information in the form and we will contact you right away.