To serve the purpose of storing and preserving food, today , household vegetable dryers are increasingly popular. This product also gives users extremely outstanding advantages in terms of features.
It helps many families to create their own source of quality, safe and healthy food with long storage time, without having to buy outside. You will also not have to worry about food safety because everything has a vegetable dryer to take care of. Let's find out why the household fruit and vegetable dryer is so trusted through the article below.
What is a household vegetable dryer?
Nowadays, dried fruits and foods are preferred because they can be preserved for a long time while still retaining their delicious taste and high nutritional content. In addition to the traditional method of drying under the sun, currently, using a household fruit and vegetable dryer is a more popular method.
A specialized refrigerator for drying household vegetables is a machine that can dry a variety of foods such as meat, seafood, fruits, medicinal herbs, etc. The machine will take away the available water in those foods but still ensure to keep the original color and nutritional composition.
To be able to dry food, you just need to cut it into slices or slice and put it in the machine. Although the dryer is still quite new to many Vietnamese, it has been and is a new step in food preservation and storage. When using dried fruits and vegetables, you can store them in a dry place and use them when needed.
Dried food has good quality, uniform use effect, so it is very convenient for everyone to use. Instead of the traditional method of cutting and then drying in the sun, which takes a long time, this product is the perfect solution for farmers.
General structure of household vegetable dryer
When using a household vegetable dryer, many people wonder about the structural features of this product. A household fruit and vegetable dryer will have a relatively simple structure including the body and the drying rig. Specifically:
Body: This is a part usually made of plastic or stainless steel depending on the supplier. The body is considered the most important part of the machine. It is also known as the heating part. This unit can adjust the temperature depending on the type of machine, normally the temperature range will be from 30 – 65 degrees Celsius.
Drying rack: The drying rack, also known as the drying tray, is usually made of high-quality plastic. The drying rack is designed specifically to dry foods and fruits placed inside.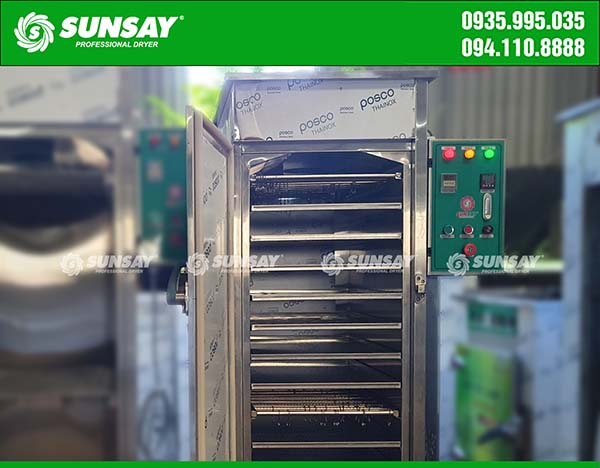 Working principle of household fruit and vegetable dryer
The household fruit and vegetable dryer will operate on the principle of using heat. The temperature of the machine will be spread to a certain extent throughout the drying racks to dry the food. The drying racks will be rotated to create a convection mode, so that the food will be dried more evenly.
Which unit should choose a household fruit and vegetable dryer?
On the market today, there are many brands that provide fruit and vegetable dryers, but SUNSAY dryers are the most popular models. The machine is very suitable for home use because of its relatively simple operation, it can be used without too much technique.
The drying air mechanism of the SUNSAY dryer is continuously and completely dried in the drying chamber. The temperature level can be adjusted depending on the product, so the machine can help food retain high nutritional value without changing the taste when affected by temperature. Food not only retains its aesthetics and nutrients, but also has a very high level of safety for health instead of the traditional drying method.
Besides, households are also completely assured to use SUNSAY dryers without fear of spending a lot of money because the machine has been designed to save maximum electricity and usage time. We also provide customers with many different models with stable and rich operating capacity to meet all user requirements when using. Product cost at the unit is also economical and competitive compared to other units in the market.
Contact method to order dryer SUNSAY
In addition to food dryer sublimation dryers, SUNSAY Vietnam also provides other types of dryers such as: refrigeration dryers, heat dryers, rice dryers, and horizontal dryers, sublimation dryers, …
Please contact Hotline (Zalo): +84 935.995.035 or call center +84 941.108.888 or leave information in the form and we will contact you right away.