The industrial vegetable dryer is used to dry fresh foods quickly and easily, while still controlling the humidity and time, instead of the traditional drying method. Industrial vegetable dryer is used to dry agricultural products, familiar materials or vegetables. This is a basic necessary equipment for food companies or small and medium businesses. Follow the article below to learn about the industrial vegetable dryer.
Why is an industrial vegetable dryer necessary for production businesses?
Industrial vegetable dryer is an essential equipment for establishments producing and supplying dried vegetables, completely replacing the old way of drying and still ensuring food safety and hygiene.
Traditional manual drying methods have too many problems because they depend on many factors such as weather, do not ensure food safety and hygiene, and consume time and human labor. Therefore, industrial fruit and vegetable dryer products were born, solving many of the problems mentioned above.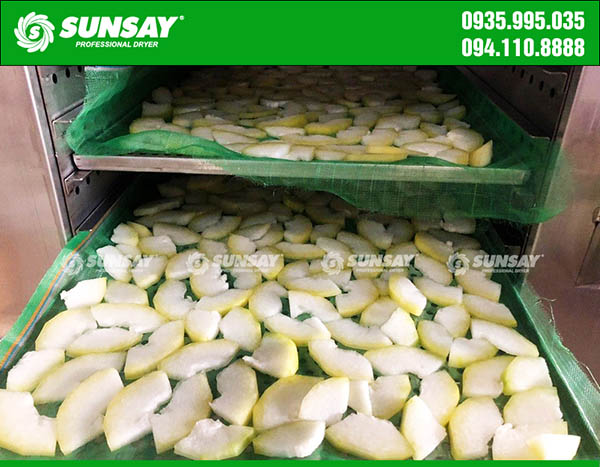 On the market today, there are many types of industrial vegetable dryers with many sizes and prices. Consumers should choose for themselves an appropriate industrial vegetable dryer to ensure good operation of the production process. In particular, the selected product needs to meet the needs of use as well as the quality and efficiency of business operations.
You should also choose for yourself a dryer with a capacity to meet the amount of food to be dried. A dryer with an appropriate price, competitive in the market and purchased at a reputable unit will give you peace of mind in all production activities and the operation process is also warranted in the best way. any problems occur.
Advantages of industrial vegetable dryer
There are quite a few users currently using industrial vegetable dryers. Because this product has outstanding advantages in drying function. Users can dry a variety of foods or can also use them easily, the compact design is easy to use and meets the needs of all users, especially industrial production and business establishments. . Here are a few advantages of industrial vegetable dryers:
Drying variety: drying foods, from common agricultural products to medicinal herbs and medicinal plants, requires the most stringent standards.
Smart operation: intelligent controller with modern features, self-regulating temperature, humidity, power and drying time.
Power saving: operated by the appropriate principle to save power to the maximum.
Industrial electronic materials and components have high durability: the drying tray is durable, ensuring hygiene when drying food.
Modern industrial vegetable dryer design, delicately crafted folding edges, quiet door and door handle.
Basically, an industrial vegetable dryer brings great benefits to any production facility. Because it is intelligently designed with a well-functioning, high-capacity engine. You can choose the number of trays that suit your needs. When choosing the right product, the efficiency of use will also increase. You will also be more assured of the quality of the food. Finished products after drying also keep the best taste, color and quality.
Where can you buy an industrial vegetable dryer?
SUNSAY Vietnam is a long-standing brand in the field of supplying industrial vegetable dryers. SUNSAY products have the following advantages:
The drying technology of SUNSAY Vietnam is modern and advanced, applying the principle of moisture separation, the dried product still retains the most original color, smell and taste because it is affected with the right temperature.
100% SUNSAY dryer is made from stainless steel, ensuring food hygiene and safety, no adverse impact on the environment.
SUNSAY industrial vegetable dryer only drains water, does not emit gas into the environment. The SUNSAY dryer works quietly, without making any noise.
The technology at SUNSAY Vietnam is a new convection drying technology, evenly drying products without reversing, fast drying time, and energy saving.
High quality, energy-saving SUNSAY dryer, suitable for diverse customer segments: households, small and medium-sized businesses, purchasing households… Comes with a warranty and long-term support , fast.
Contact method to order dryer SUNSAY
In addition to food dryer sublimation dryers, SUNSAY Vietnam also provides other types of dryers such as: refrigeration dryers, heat dryers, rice dryers, and horizontal dryers, sublimation dryers, …
Please contact Hotline (Zalo): +84 935.995.035 or call center +84 941.108.888 or leave information in the form and we will contact you right away.