The price of chili dryer usually depends on the type of chili dryer that the user chooses. There are many different types of chili dryers on the market today. Product prices also vary depending on the type of supply. Users can choose for themselves a variety of chili dryers on the market in accordance with the scale of use as well as their needs. Let's learn about this machine and the price of chili dryer on the market.
What are the requirements for drying whole dried chili peppers?
To dry whole chili peppers or use as chili powder, you will need to use a high-quality drying method to obtain a finished product with beautiful color, standard dryness for long-term preservation. Chili is one of the easiest fruits to dry. Normally, if you just need to dry the chili under a big sun, the chili can dry out again. However, then you will not be able to control the color and dryness inside the chili.
At the same time, drying in the sun so that the peppers are completely dry and not moldy during storage will take a lot of time. Usually such a process will take up to several days. Therefore, the efficiency will not be high, the cost will be low. This is one of the great obstacles of today's users when drying whole dried chili peppers.
Therefore, the use of a chili dryer is the solution to ensure the quality of dried chili. Chili dried from the machine will have a beautiful red color, not much deflation, and standard dryness so that it can be ground into chili powder or preserved for a long time.
A batch of chili drying in a normal dryer only takes 6-10 hours depending on the size of each type of chili. This product is the perfect solution for every user who needs to dry chili in large quantities while still ensuring quality and price.
How much is the price of a chili dryer on the market today?
Usually, depending on the size and production needs, customers will choose different chili dryers. The machines can range from 10kg to 1 ton of fresh chili per day. With a drying scale of less than 500kg, there are ready-made dryers that can be used immediately when delivered to the production site. This series of machines is suitable for small-scale locations where there is not much machine space.
The price of a chili dryer will range from VND 30 million to VND 150 million depending on the size and capacity of that machine. Buyers need to base themselves on the need to use and the price of the chili dryer to choose a suitable machine.
It is not true that low-cost machines will be of poor quality, and high-cost machines will be effective. Effective or not depends a lot on the suitability that the product provides to the user. Therefore, you should rely on your needs to find the best chili dryer.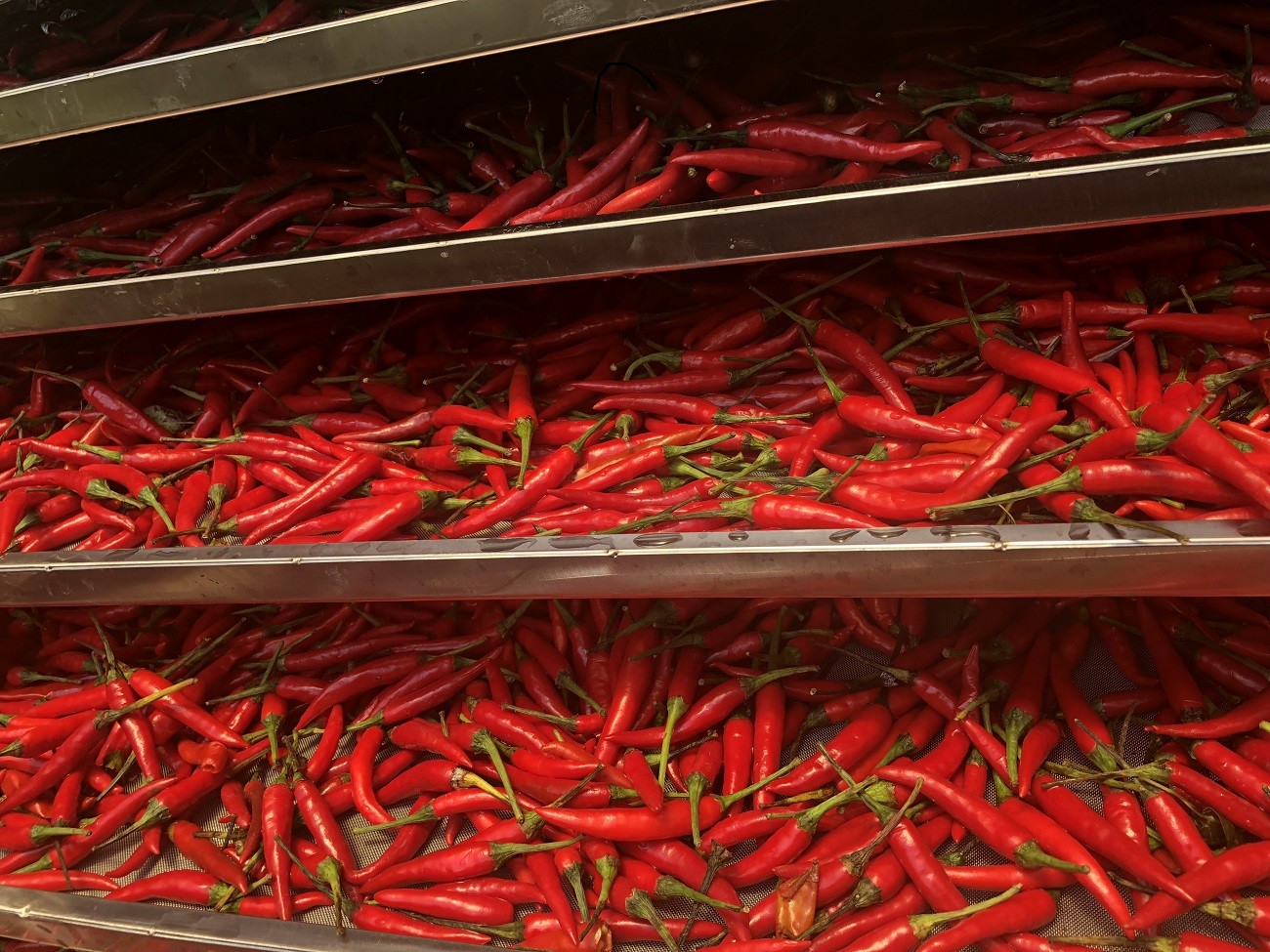 Choosing a unit that sells quality chili dryer
To own a good chili dryer, you should look to suppliers who have many years of experience in the market. SUNSAY is one of them. With 10 years of experience in manufacturing high quality advanced chili dryers, SUNSAY Vietnam is proud to bring customers the best experience. The price of SUNSAY chili dryer is very reasonable and competitive in the market today.
SUNSAY's machines are applied with advanced cold drying technology from Europe, thereby helping to reduce drying time, save electricity and ensure that the results after drying still achieve high nutritional value, color and color. are all beautiful. This product has been trusted and used by many users since its introduction. It brings practical advantages and benefits to users and meets the different requirements of users.
SUNSAY drying machine is also popular for its ability to save energy to help limit environmental pollution. This is extremely important in today's society because environmental pollution is one of the top concerns in any field. Using a dryer , you will not have to spend too much on electricity, so it is highly appreciated by users.
Our product prices are always competitive compared to the market and give users the best price. At present, SUNSAY also offers a wide variety of dryers in different types and capacities. Therefore, you can rest assured when choosing a machine that is suitable for your financial ability.
Contact method to order dryer SUNSAY
In addition to food dryer sublimation dryers, SUNSAY Vietnam also provides other types of dryers such as: refrigeration dryers, heat dryers, rice dryers, and horizontal dryers, sublimation dryers, …
Please contact Hotline (Zalo): +84 935.995.035 or call center +84 941.108.888 or leave information in the form and we will contact you right away.