Chili agricultural dryer is a concept that is no longer strange in the process of preserving this type of food. Dried chili products can be used to make many different products. However, to be able to preserve chili for a long time and use it for many different purposes, drying chili is the solution for everyone. Chili dryer products are also highly appreciated for their quality and good use efficiency, so they are used and preferred by more and more users.
What are the advantages of this type of dryer? Let us learn more about this machine through the article below.
Why use a chili agricultural dryer?
In fact, we can completely dry peppers by drying them in the sun. However, this method does not guarantee food hygiene and safety and takes a lot of time. If not exposed to the sun enough, it will cause the chili to mold, causing aflatoxin toxin – a cancer-causing agent.
Therefore, using a chili agricultural dryer will help you actively control temperature and humidity. The finished product obtained will ensure uniformity in quantity and quality. Besides, you will also meet the hygiene requirements. Therefore, the method of using a chili agricultural dryer is increasingly popular in production and preservation today.
The process of drying chili from chili agricultural dryer
Although the chili dryer is mentioned by many people, not everyone understands the process of the chili dryer. Understanding the operation process, you will own a quality chili dryer product and use it most effectively. A production process of chili agricultural dryer will include the following steps:
Step 1: Select and prepare chili peppers depending on the intended use
Step 2: Blanch the peppers in hot water for about 5 minutes to remove the enzymes present in the chili. This will help the finished product to have a better color.
Step 3: Wait for the chili to drain, then put it on a tray and put it in the dryer.
Step 4: Adjust the temperature parameters to match the finished product requirements. Normally, the suitable temperature for drying chili peppers is about 60-75 degrees Celsius within 1 hour.
Step 5: Regularly check the drying parameters on the electronic board. When the humidity in the sensor recorded below 10% is okay. If you want the finished product to be drier, the drying time can be extended. However, the recommended humidity level should be between 5-10%.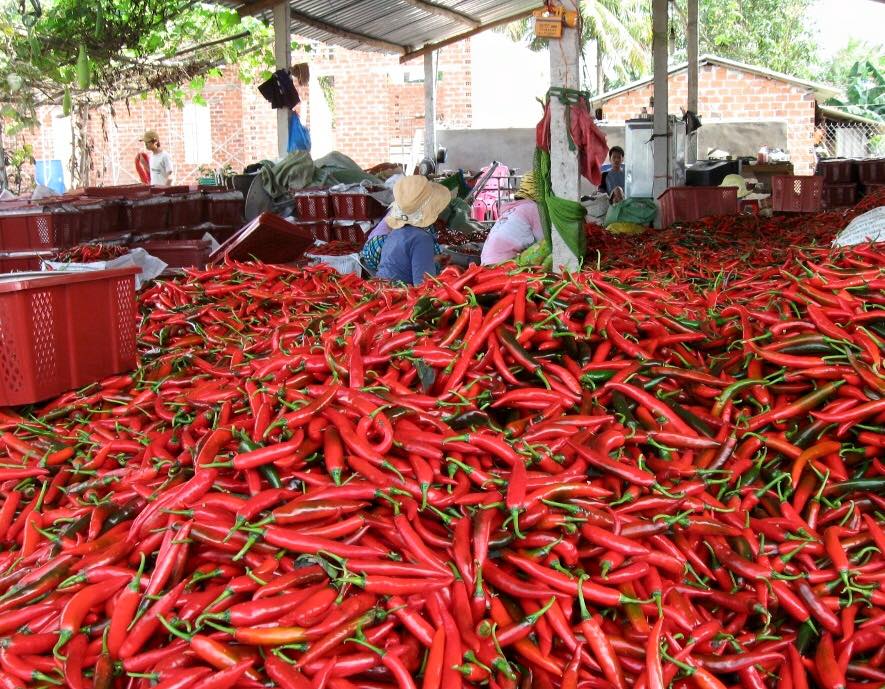 Step 6: Turn off the machine, let the chili cool down and pack it for storage
The finished chili product obtained from the chili dryer will have a more uniform color and shape than the chili dried from the traditional method. This is also the advantage that chili dryer products bring. When drying in the traditional way, the dried chili may not be uniform in color, the quality is not guaranteed and the level of food hygiene and safety is not high.
Which unit should buy a chili agricultural dryer?
On the market today, there are many suppliers of chili agricultural products, but the most trusted brand is SUNSAY. SUNSAY Vietnam is a famous brand specializing in providing solutions for drying and preserving agricultural products and food.
The company has many years of experience, all products offered on the market of SUNSAY are committed to quality for customers and have a clear and specific warranty.
The highlight of SUNSAY dryer is that the drying technology is applied from Europe to bring about high quality finished products and ensure food safety and hygiene. Moreover, SUNSAY dryers also help customers save maximum time and energy during use.
With only one dryer, you can dry a lot of chili peppers in large quantities to meet your production and business needs.
You also don't need to worry about not knowing how to use it because the dryers from SUNSAY are designed to be very simple and easy to operate. The machine is also made from high-quality metal imported from abroad, so the operation is durable and stable, minimizing common errors. When operating, this product also does not cause strong noise, so it is suitable for use in many different spaces.
Contact method to order dryer SUNSAY
In addition to food dryer sublimation dryers, SUNSAY Vietnam also provides other types of dryers such as: refrigeration dryers, heat dryers, rice dryers, and horizontal dryers, sublimation dryers, …
Please contact Hotline (Zalo): +84 935.995.035 or call center +84 941.108.888 or leave information in the form and we will contact you right away.