Drying strawberries is an industrial drying method that helps to preserve for a long time while preserving the nutritional values ​​of fresh, succulent strawberries. Depending on the drying technology, many different flavors will be produced. This is also a method that helps you to create delicious, unique dishes that are not boring and also very nutritious for health. Currently, drying technology is becoming more and more modern and can meet the strict requirements of users. The following information will help you better understand this drying method.
Why is dried strawberries so popular?
Strawberry is a fruit that contains a lot of vitamin C, which helps strengthen the body's immunity, protect eyes, prevent cancer, … and also has the effect of keeping fit and beautiful skin. Whether you eat fresh or processed strawberries, it has many health benefits.
Freeze-drying is a method of storing strawberries to help maintain maximum nutrient content. Besides, this is also a way to preserve strawberries for longer because not every season has this fruit. Especially during Tet every year, there's nothing better than enjoying a cup of tea with some strawberry jam.
One of the reasons why many people love this snack is probably because it has a sweet aroma, a sour taste mixed with sweetness, a chewy piece of jam that all blend together to create a difficult taste to eat. but forget. Not only that, when using the method of drying strawberries to produce delicious dried strawberries that can be preserved for a long time, it also helps users to choose this product more. You can use it to eat or as a gift on important holidays.
The easiest way to process dried strawberries at home
It is not difficult to create delicious and nutritious batches of dried strawberries. You can completely apply the method of drying strawberries by machine to bring the highest efficiency and best quality. Here are the fastest ways to dry strawberries for your reference.
–       Choose ripe berries, not crushed.
–       Rinse with water and dry.
–       Add sugar to mix well with strawberries, then leave for 2-3 hours for the sugar water to run out.
–       Arrange strawberries evenly on the drying tray. Depending on the method of freezing or drying, choose the appropriate temperature.
–       After drying, strawberries will have a darker color, the skin will be dry, and the flesh on the side will be flexible, not hard.
–       Store in glass jars or vacuum bags for later use.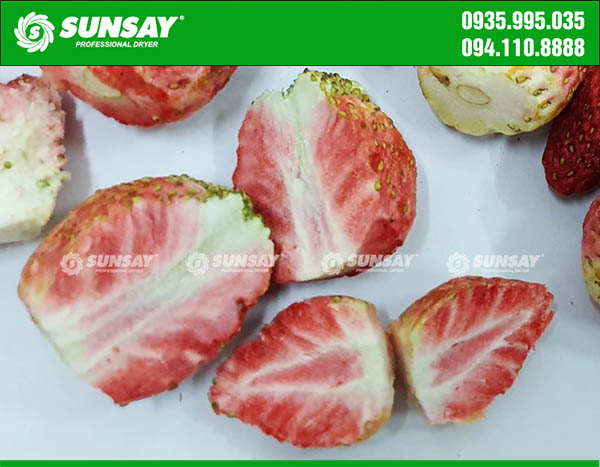 Place to sell reputable and quality strawberry dryer

 
To make a dish of dried strawberries that keeps the maximum nutritional content like fresh strawberries, using a freeze dryer is the most suitable choice. Therefore, dried fruit processing enterprises often consider carefully the line of freeze dryers before putting them into use for their business.
On the market, there are countless different types of refrigeration dryers, mixed with real fake. Therefore, finding a quality dryer requires the buyer to have experience and understanding of industrial machinery. On the other hand, competitive prices always make businesses feel a headache when choosing.
SUNSAY Vietnam – Brand 10 years of development
Sunsay is a famous brand in the field of providing drying and preserving solutions for agricultural products and food. Sunsay's products are of high quality, with power-saving features suitable for all businesses from small to large. SUNSAY dryers apply modern drying technologies from Europe, saving drying time and ensuring the safety and hygiene of products.
The products provided by SUNSAY meet the following 3 criteria:
–       High quality
–       Save energy
–       Suitable for each different customer segment.
Units that should own SUNSAY dryers:
–       Establishments that purchase agricultural products
–       Family business
–       Enterprises processing food and agricultural products.
SUNSAY is a reputable brand selling refrigeration dryers on the market today, always putting customers first for the benefit of customers. The product comes with a lifetime warranty for peace of mind. You can rest assured when using a dryer product because the staff is always dedicated to supporting and answering all customers' questions about this product.
For more information, please contact us via hotline +84 941108888 or website: www.sunsay.vn . With all the information about the drying method of strawberries presented above, hopefully you have also gained useful knowledge when you need to make delicious dried strawberries for the whole family. You can also buy high capacity strawberry dryer products to use for your large-scale business model with the most efficient productivity.