At establishments specializing in the production of animal feed for cattle, poultry and a variety of aquatic products, the pellet dryer is an indispensable device in it. These bran dryers have the effect of drying bran to make it more convenient to make pellets for bran seeds. Together we will learn more about this machine right in the article below.
How does the pellet dryer work?
Working principle
The pellet dryer will basically work on the principle that moisture will be evaporated when encountering high temperature. In more detail, when the seeds are still wet, they will be put inside the drying chamber of the pellet dryer. Here, the heating element will provide heat to the drying chamber, which will cause the moisture inside the bran grains to heat up and evaporate to the outside. From there, the bran pellets will become dry and can be packed into bags.
People dried bran pellets because bran pellets when dry will have a much longer storage time than wet bran. Moreover, dried bran will help livestock and poultry more easily eat and digest them. For seafood, dried bran will easily float on the water, seafood will eat bran much more quickly.
Drying machine for bran pellets inside bran production facilities
People can easily see these pellet dryers inside today's large and small animal feed production facilities. Note that when installing these pellet dryers, people need to keep the machine in a cool, dry place, avoiding direct sunlight as well as excessive water exposure.
This pellet dryer is an almost indispensable equipment inside those feed production facilities. Therefore, it is necessary to pay attention and choose high-quality pellet dryers as well as long-term use to ensure uninterrupted production.
How to choose the right pellet dryer?
Buy pellet dryers at market facilities
Currently on the market, there are also a lot of pellet dryers with a full range of models and different capacities. People can find and buy these machines at systems that offer different types of dryers. However, when buying, you need to be very careful to check the goods carefully. We should not be greedy, but buy cheap imitation pellet dryers of poor quality.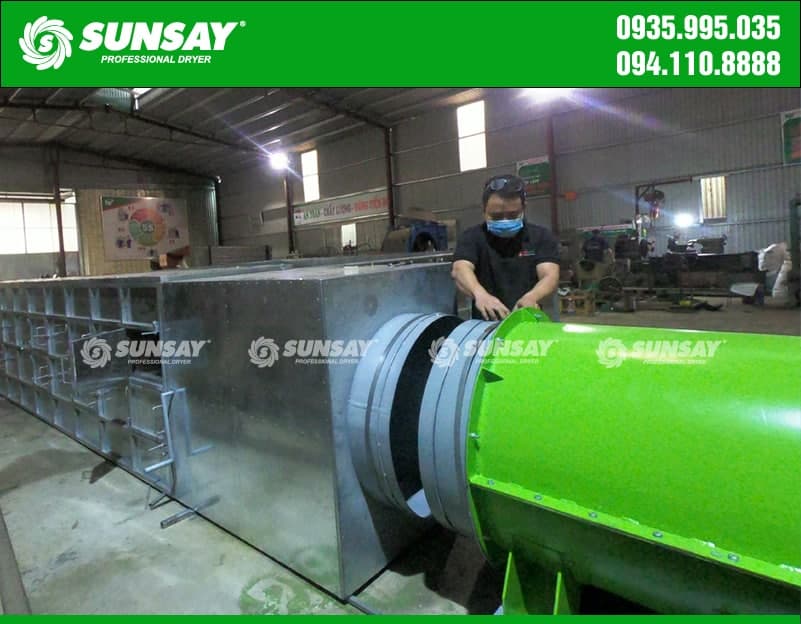 Buy bran pellet dryer at SUNSAY Vietnam system
SUNSAY system has long been known as a leading supplier of specialized machinery products for food drying in Vietnam. Customers coming to our system will receive dryers with high quality and long warranty period. Moreover, the price of pellet dryers in particular and dryers in general is always stable and at a good level compared to other products on the market.
If you are interested in SUNSAY the product, please contact us via hotline: +84 941108888 to receive the most detailed advice and the earliest quotation from the system staff.