Dried flowers in the bath have long been known as a type of aromatherapy widely used by women. After a hard day's work, there is nothing more pleasurable than soaking in a bath filled with fragrant and refreshing ways of rose and lavender. Our following article will give you a clearer view of this flavoring as well as how to make it.
How are dried flowers in the bath made?
These aromatherapy establishments have their own secret ways to create the best quality dried flower products. However, we can also imagine the basic way to make these dried flower bath products.
The first step will be to choose flowers. The flowers that are often used to make dried flowers in the bath are roses, lavender, chrysanthemums, etc. These flowers must all have the characteristic of having a fragrant scent as well as containing no irritants. human skin. The flowers selected are fresh, high-quality flowers that are not crumpled so that their scent can be preserved.
After buying flowers, the staff will separate the petals from the stamens. This requires the necessary meticulousness of workers so that the petals do not break and tear. The petals, after being separated, will be placed inside specialized food dryers for drying flowers. These dryers will work to make fresh petals dry and lose moisture as quickly as possible.
After such a drying process, the bath products are generally completed. Next, the workers only need to put the products in the packaging to pack and be consumed on the market.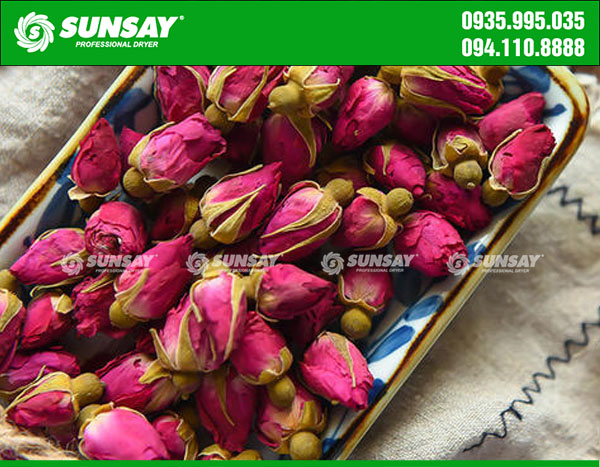 Note when using dried flowers in the bath
Dried flowers used for soaking are also not difficult to use. Women just need to put dried flowers in the bath and flush with the appropriate water level to be able to use it immediately. However, each person will have a unique body, so it is necessary to pay attention to whether you are allergic to a certain type of flower. If the body is allergic, absolutely do not use these products to put in the bath. Users may experience skin irritation, the appearance of red spots that cause itching and discomfort.
Where is the most reasonable place to buy a bath tub drying machine?
Establishments specializing in the production of dried flowers for baths as well as dried foods can find food dryers to make their work more convenient. Currently, these food dryers are being sold on the market quite a lot with many different models and quality. Everyone should pay attention to choosing the most suitable machine for their facility.
SUNSAY Vietnam system has long been known as a facility specializing in providing famous food dryers in the market. Customers can rest assured when choosing products from our system because each product comes with a great warranty. Please quickly call the hotline: +84 941108888 to receive the most detailed advice from the system staff.