What is a multi-function food dryer and why is it so popular? This is one of the most popular products on the market. Especially today's business units. The article will share with you useful and necessary information about this tool. This type of machine is specially used to dry food quickly, efficiently and easily. Where should I buy the product, the quality at which unit is guaranteed? Please read the following article.
Why are multi-function food dryers popular?
Most of today's food dryers are very versatile because they can not only dry one material, but can dry dozens of different ingredients. Besides, being able to adjust the temperature helps ensure the best quality of the finished product after drying. Therefore, the versatile food dryer is very popular and used by many customers in the market.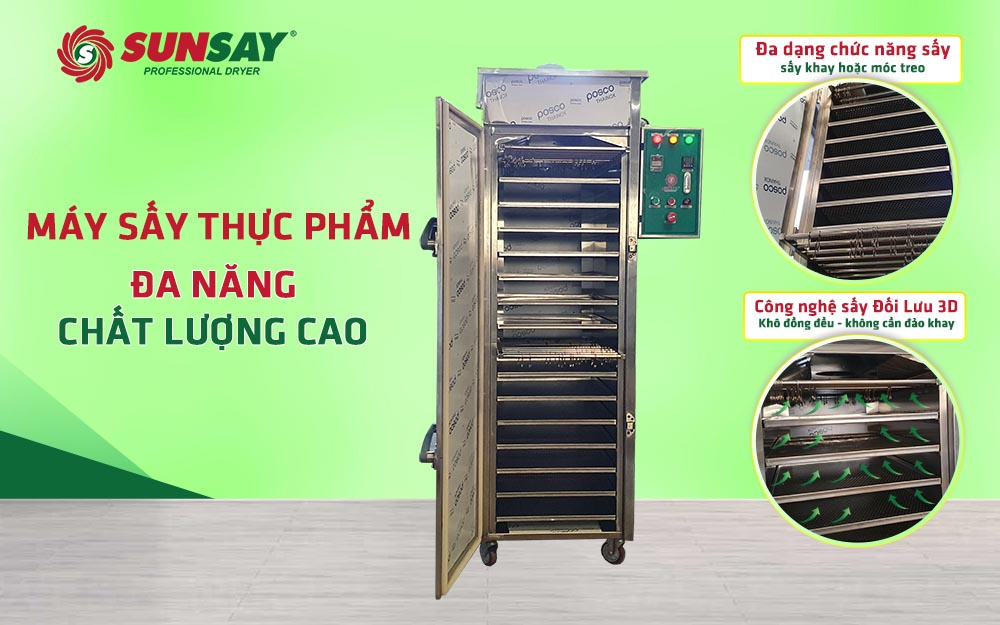 The versatile food dryer is a machine that uses artificial drying methods to dry ingredients quickly. The versatile food dryer line is a machine that can dry a variety of different materials, such as:
Drying agricultural products including: rice, corn, beans, tea or coffee.
Drying fruits from bananas, jackfruits to mangoes, coconuts or apples…
Drying meats such as beef, chicken, pork, rabbit…
Drying vegetables and fruits such as potatoes, green onions, taro, carrots, sweet potatoes…
Dried flowers such as chrysanthemums, roses … used to make tea.
Dried seafood such as anchovies, dried shrimp, squid, oysters …
Dried herbs used in traditional medicine.
Drying dishes such as making vermicelli, dry pho, rice paper, burnt rice or puff pastry…
The variety of drying materials allows users to use it to produce many different products, serving the diverse needs of the market. Using a multi-function food dryer saves costs because you only need to buy one machine to dry a lot of different ingredients.
The current multi-function household food dryers are very diverse in design and number of drying trays such as line of 6 drying trays, 10 drying trays, 8 drying trays, 9 drying trays, 15 drying trays… Depending on the volume The material needs to be dried so that the user can choose the appropriate model, improve the efficiency of use, avoid buying the machine too much with the required capacity so as not to be wasted.
Advantages of a multi-function food dryer
Fast drying time: the heat emitted is much higher than conventional dryers or mini dryers, ovens. This will lead to an acceleration of the dehumidification system, accelerating the drainage of water in the food. The fast drying process saves time, effort, and power consumption in homes or businesses. This will reduce input costs, operating costs and production costs for users.
In general, food dryers bring a lot of practical benefits to users compared to traditional methods. Food dryers can dry a variety of foods, meeting the quality requirements of all users, including large and small production and business establishments. You can choose to buy a machine with a large capacity to bring high business efficiency. You can also dry food in bulk to meet the consumption needs of the business.
Not only has a fast drying time, can dry a lot of food, but the versatile food dryer product is also very economical for users. It can be said that this is one of the dryers with not too high investment costs, but it brings the strongest effect to the user. You can also use it for a long time, so the value is also worth appreciating.
Where to buy a reputable multi-function food dryer?
SUNSAY multi-function food dryer is a machine trusted by many customers for many years. SUNSAY Vietnam is proud to be a dryer brand with more than 10 years of experience in the field of manufacturing and manufacturing high-class multi-function food dryers. Products of SUNSAY Vietnam have the following advantages: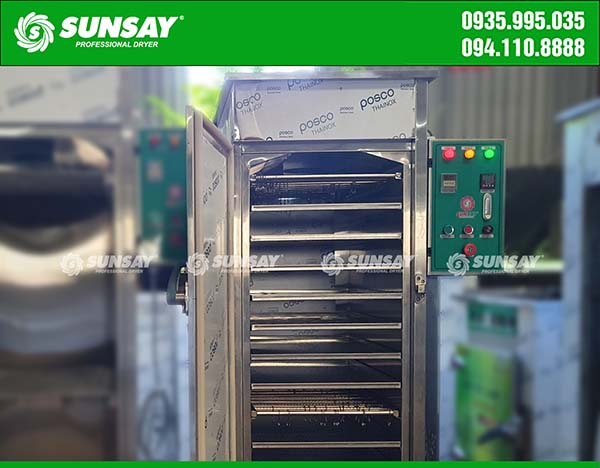 High quality – energy saving – suitable for each customer segment.
Products with long-term warranty
Reasonable prices, competitive
The machine has high durability, good impact resistance, good heat resistance
Simple but sophisticated, optimal design
Contact method to order dryer SUNSAY
In addition to food dryer, SUNSAY Vietnam also provides other types of dryers such as: frefrigeration dryers, rice dryers, and horizontal dryers, sublimation dryers, …
Please contact Hotline (Zalo): +84 935.995.035 or call center +84 941.108.888 or leave information in the form and we will contact you right away.