10 trays food dryer helps us both to process safe dry products at home and to preserve food for longer. This is also one of the top quality dryers serving the diverse needs of all audiences. In which there are households with food drying needs or small production facilities. Follow the article below to learn about this 10 tray food dryer.
Why use 10 trays food dryer?
Normally, we often use dried foods such as dried bananas, dried jackfruit, dried fish, dried beef … These foods are often sold at the stalls selling dry goods in supermarkets, markets or shops. dried. But how those foods are processed is completely unknown. Therefore, the 10-tray food dryer product was born to help housewives can manually process the most hygienic dry items.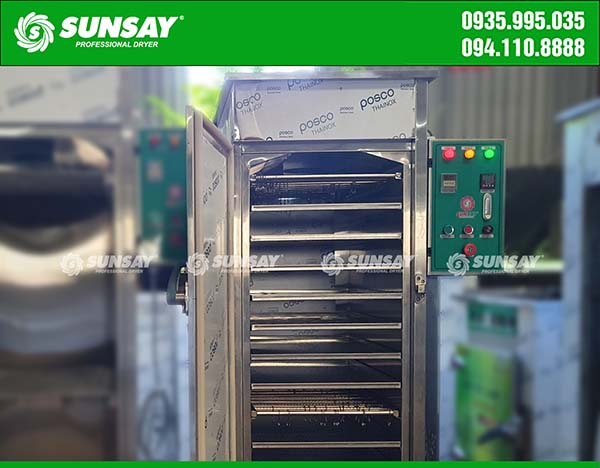 The 10-tray food dryer can be seen as a savior of those who love to eat home-made dried foods. Traditional drying and drying methods can also be done, but the quality of the dish will be reduced. The 10-tray food dryer with new technologies makes drying food easier, saving time, space as well as better food quality and can be preserved for longer.
The 10-tray food dryer has a reasonable area, does not take up too much kitchen space and can still dry a large amount of food. The foods that can be used in the 10-tray food dryer include fruits, vegetables, meat, shrimp.. You can place the dryer in any convenient space for food drying. The versatility of the product also helps users save a lot of time and money. Because whether it is any food such as medicinal herbs, vegetables or seafood, you can dry it in a very quick time.
Outstanding advantages of 10 trays food dryer
Any product that is popular to use has certain reasons. The 10-tray multi-function food dryer is similar. This product gives users a lot of outstanding and practical advantages for production activities as well as daily life. The advantages are mentioned a lot, but it is possible to point out some of the outstanding strengths of this product compared to other dryer products below.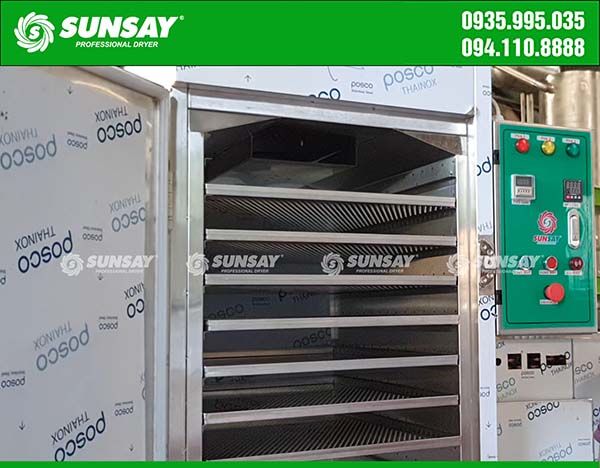 – Drying many different foods such as beef, fish, fruit, …
– Save kitchen space
– Energy saving
– Hygiene
– Can dry many types of food at the same time because there are many compartments
– Easy to use
– Long-term food preservation
With many advantages and advantages, it is not difficult to understand when the 10-tray food dryer is increasingly appreciated in the market with modern products, which are widely applied to life. This is also the perfect solution for every business unit in the market.
Steps to dry food with a 10 trays food dryer
– Sanitize foods before drying
– Drain for 10-30 minutes depending on the type of food
– Put food in the dryer
– Adjust the appropriate drying level
– Wait for the food to dry according to the time on the instruction board
– Take out the food after drying
– Cool and store
Where to buy quality 10 trays food dryer?
SUNSAY 10 tray food dryer has been trusted by many customers for many years now. SUNSAY Vietnam is a dryer supply system operating for more than 10 years in Vietnam market.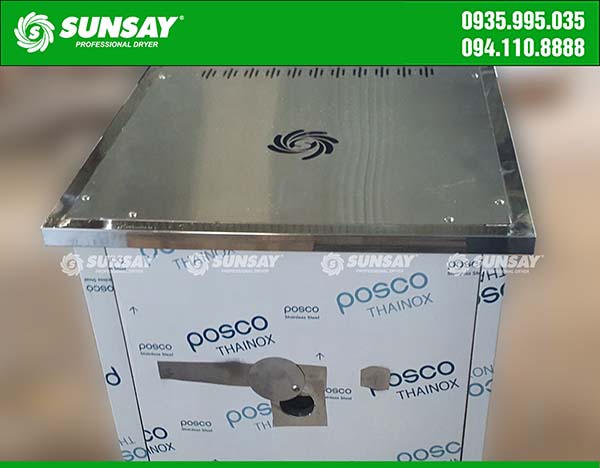 SUNSAY 10 tray food dryer is proud to bring users the best experience at the most reasonable price. SUNSAY 10 tray food dryer is also one of the products that help customers save energy when using.
SUNSAY Vietnam is a reliable address of many large and small customers throughout Vietnam. SUNSAY Vietnam provides specialized dryers for agriculture, supporting farmers, so the company is very popular with the majority of users.
SUNSAY 10 tray food dryer has the following advantages:
– Good price
– Very good energy-saving product
– 100% new product
The product has high durability, good heat resistance, good impact resistance
Contact method to order dryer SUNSAY
In addition to food dryer, SUNSAY Vietnam also provides other types of dryers such as: refrigeration dryers, heat dryers, rice dryers, and horizontal dryers, sublimation dryers, …
Please contact Hotline (Zalo): +84 935.995.035 or call center +84 941.108.888 or leave information in the form and we will contact you right away.