Lotus seeds are a very healthy food and are being loved by everyone today, the lotus seed vacuum frying machine have since also become a product that people pay a lot of attention to. Let's learn together about some information related to these machines such as its benefits as well as its price in today's article.
What kind of machine is the lotus seed vacuum frying machine?
Lotus seed vacuum frying machine is a kind of technology machine, using vacuum frying cycle to dry lotus seeds. Lotus seeds after being dried by this vacuum fryer will be crispy and become much more delicious. The lotus seed vacuum frying machines will not reduce the amount of nutrients contained in the lotus seeds, but on the contrary, those nutrients will combine together into many other better nutrients.
These lotus seed vacuum frying machines often appear in large fried and dried food production facilities on the market today. In addition to the ability to fry lotus seeds, these machines are also capable of working with many different foods, creating sweet and delicious crispy vacuum-fried dishes.
Appeared about 15 years ago, these machines are now becoming much more popular. The lotus seed vacuum frying machines use oil-free vacuum frying technology. The amount of air in the previous machine during frying is absent and the pressure is reduced to a minimum by means of the air intake elements. Vacuum-fried foods such as lotus seeds, mushrooms, etc. will have a more delicious taste as well as be preserved longer than products using conventional drying technology.
Suitable facilities for using lotus seed vacuum frying machine
These machines are really suitable to be used inside fried and dried food production facilities in our country. Dry fried foods like lotus seeds are becoming more and more popular and people's demand for them is also very high. Investing and using these vacuum frying machines is a very right choice for the owners of those production facilities.
Newly established establishments or those who are intending to open a dry food production business should also pay attention to this machine. In addition to being able to produce lotus seeds, these machines can still produce many other foods, diversifying the business of the production facility.
Where can I buy a lotus seed vacuum frying machine?
To be able to own these convenient machines, customers can choose from a variety of machine manufacturing and trading facilities on the market today. However, it is necessary to pay attention to choosing quality machines from reputable facilities to avoid buying poor quality products with short lifespan. Poor quality machines will not bring high efficiency, and will not help you optimize costs. On the contrary, poor quality machines will cause a higher risk of damage, and the investment cost to replace is much more expensive.
Currently, the market is flooded with units that provide lotus seed vacuum frying machines. However, not all units provide customers with products that match their needs and have the most competitive prices. Where to buy lotus seed vacuum frying machine is still something that many people are interested in. Especially when this product is being sold more and more.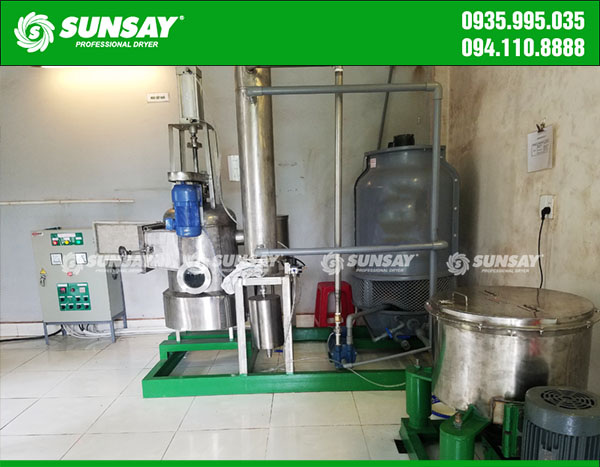 We are very pleased to bring to our customers the best quality lotus seed vacuum frying machine products with all capacities. In addition, SUNSAY Vietnam also provides many types of frying machines and dryers for many different foods. The variety of these products gives the user a lot of different choices.
Interested customers, please call us via hotline:   094. 110. 8888 or visit our website: https://kynghexanh.com/ for the earliest and most detailed advice. With products that are thoroughly researched in terms of functionality, we are committed to bringing you a perfect choice for your needs. When using the vacuum frying machine at the company, if you have any problems, you can also contact the technical department for quick support.
For an accurate quote, you can contact the hotline above or click to receive a quote right below. With all the information provided above, we hope to have helped you find the best vacuum frying machine for you.