Currently, the use of mushroom vacuum frying machine to produce dried mushrooms is becoming more and more popular for many people. These vacuum fryers can not only make dried mushrooms but also make different types of dried foods. This article today will bring you the most useful information about these mushroom vacuum frying machine products.
Structure of mushroom vacuum frying machine
The mushroom vacuum frying machine is a product that gives users a lot of benefits. This is also a popular industrial equipment. Especially for units that produce fried foods to supply the market in large quantities.
Using a mushroom vacuum frying machine helps the food processing process to be faster and more efficient. The mushroom vacuum frying machines have a quite special structure and many different parts, the commonly used parts will be listed below. You can refer to this product to better understand and use it most effectively.
Body: Made of insulating and insulating materials, the body is made very sturdy and can insulate between the machine and the outside environment. Modern vacuum fryers have a body made of many different layers for the best insulation. There are layers such as iron shell, insulating glass wool layer, insulating polishing layer, …
Heat generation system: This is the part that can be said to be the heart of the vacuum fryer, a high amount of heat will be generated from this part. Depending on the different machines, this part will be different, it may be an incandescent light bulb system or heat-generating springs. Users can adjust the amount of heat during frying with buttons on the control panel.
Vacuum machine: A very good feature of these mushroom vacuum fryers is that the mushrooms will be dried in a very little air environment, almost a vacuum. With such low pressure, the mushrooms will retain their delicious flavor and last longer than conventional frying.
The vacuum cleaners will suck the air from the inside of the machine gradually out, along with the tight and tight valve system, the air will not be able to penetrate into the mushroom vacuum fryer.
Material tray: Fresh ingredients such as mushrooms will be placed on these trays. Depending on the capacity of the machine, the amount of trays in the machine will be more or less different. The machines of the mushroom vacuum fryer are usually made of stainless steel or electrostatic steel to be used for the longest time, without rusting.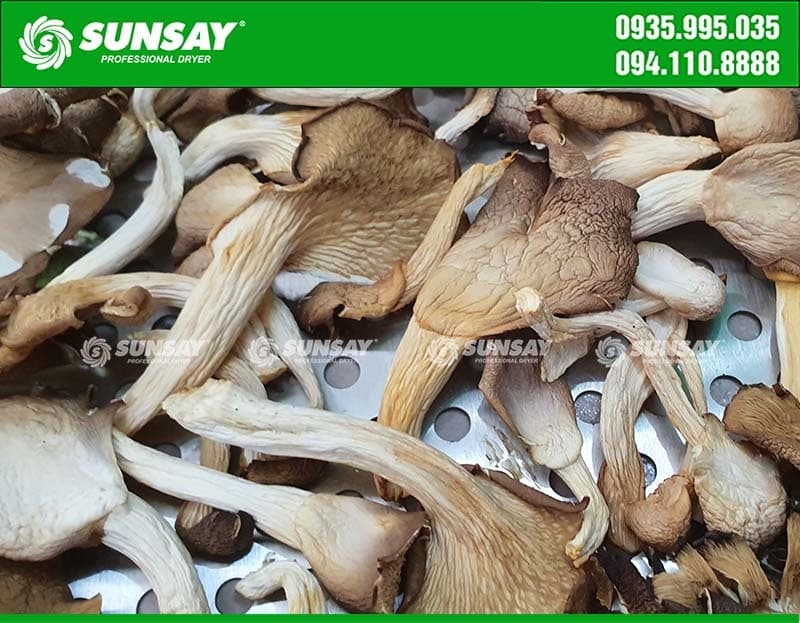 In general, each part of the mushroom vacuum frying machine has different roles and functions. You can look to reputable units in the market for advice on finding a product with a structure that meets the strict requirements in the industrial production process.
Mushroom vacuum frying machines are now on the market
The demand for using vacuum fried mushrooms is increasing in families in our country today, so the mushroom vacuum frying machines are also being sold and produced by many systems. Manufacturers can find these products in many parts of the country. However, it is necessary to find reputable business systems and have a long business history to receive the best quality mushroom vacuum frying machine products.
Customers interested in these vacuum frying machine products can find our SUNSAY Vietnam store system across the country. Coming to SUNSAY, you will have a lot of choices about vacuum frying machines, hot dryers, cold dryers with different capacities and the most affordable and suitable prices.
SUNSAY Vietnam's vacuum frying machine can meet the strict requirements of users in terms of quality. You will be consulted enthusiastically about the types of frying machines that are versatile and have a modern design structure. We'll also give you the best recommendations in finding a vacuum fryer that's right for your budget.
SUNSAY Vietnam has technology and materials for manufacturing machines imported from abroad, ensuring the longevity of the top products on the market. Interested customers, please call us via hotline: +84 94. 110. 8888 or visit our website: https://kynghexanh.com/ to receive the earliest advice. With competitive prices and high quality products, SUNSAY Vietnam is the place you can trust to find good price vacuum frying machine products.