Industrial ice machine is a specialized ice-making system that is being used a lot in business establishments and ice cube suppliers in the market. Industrial ice machines are loved by their huge ice-making capacity. Users can easily choose to buy for their needs an ice machine with suitable capacity provided by a reputable unit on the market today.
Not only has the effect of making ice quickly, the ice machine product also gives users many outstanding advantages. Through this article, we will help you have the most overview of industrial ice machines. 
Overview of industrial ice machine
Understanding about industrial ice machine products will make it easier for you to choose and buy. Although industrial ice machines are used a lot, not everyone really understands this product as well as the benefits it brings to users. So you need to learn carefully to be able to make the most of the advantages that this product brings.
What is an industrial ice machine?
Industrial ice machine is a mechanical device used to produce cylindrical ice with different sizes from 19 to 47. This type of ice is suitable for many different purposes. Larger ice cubes will have a longer cooling time. Therefore, depending on the needs of use, you can choose the most suitable industrial ice machine with the size and capacity of the machine.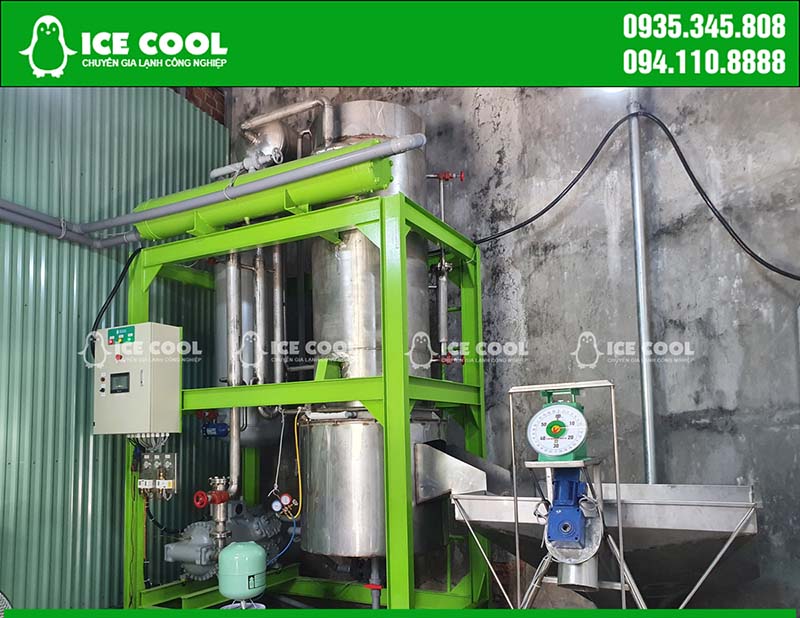 How much capacity does an industrial ice machine have?
The industrial ice maker has a much larger size and capacity than the mini mini ice maker. The finished product capacity of this machine is from 1 ton to 30 tons in a day. Because of its high capacity, the machine is very suitable for units that need to use large quantities of ice. Currently on the market there are many different types of machines as well as the capacity of the machine, in accordance with many requirements of buyers. 
Industrial ice machines are widely used in large business establishments or establishments that supply ice in the market. Large business establishments such as system of trade centers, large-scale beverage business establishments. For units that produce ice cubes to supply in the market, choosing an industrial ice machine is the most optimal solution today. 
The outstanding advantages of industrial ice machines
Currently on the market demand for industrial ice machines is very large. Because this product possesses many different advantages. In which, it is impossible not to mention the following benefits and advantages.
Industrial ice machine with fast ice making speed, large capacity
One of the leading advantages of the industrial ice machine is that it has a fast ice-making speed, and the ice-making capacity is greatly appreciated. In particular, the machine also has long-term stable ice-making performance. Because of the large capacity of ice making, the initial cost of the product calculated per 1kg of ice is low. 
Suitable for large business scale
Industrial ice machine has a large capacity, so it is very suitable for large businesses, helping businesses increase productivity effectively. Industrial ice machine is made of high-grade stainless steel, featuring absolute anti-corrosion characteristics. Therefore, the life of the industrial ice machine is very long. 
Industrial ice machine is very easy to operate
The industrial ice machine is very modern with a fully automatic control system, making it easy for users to operate. The machine operates smoothly, with low noise. Most of the machine's equipment is imported from countries with modern technology, so the quality is very high. When using, you are also more assured of the quality of this product compared to other types of ice machines being offered on the market. Of course, you also have to buy ice machines at reputable addresses for the longest lasting use.
At Green Technology, we have been providing industrial ice machines with the best quality. Green Technology supports the maximum cost of shipping and installing the machine for you. Industrial ice machines have the best product warranty and maintenance on the market.
Green Technology has a very skilled technical team, actively supporting customers in product consulting, technology transfer and perfect usage for customers. For more information about industrial ice machine products, please contact us by phone number +84 94.110.8888 or website: https://kynghexanh.com/ for advice.