With the criterion of bringing quality dryer products to contribute to improving the value of processing and preserving agricultural products and food in Vietnam. SUNSAY dryers deploy SUNSAY food dryer rental program . SUNSAY dryer is a leading unit in Vietnam in research, design and manufacture of dryers. With more than 15 years of experience in the drying industry, we have provided thousands of dryers to domestic and foreign customers.
5 drying technologies deployed by SUNSAY for food dryer rental
SUNSAY heat drying technology
Heat drying technology is a technology that uses hot heat to dry products. Common working temperature range from 40 to 90 degrees Celsius. Food drying capacity from 20 kg to 300 kg / 1 drying time and 500 kg to 20 tons / 1 dryer with drying agricultural products.
The food dryer lines that you can choose to use the food dryer rental service . See detailed information of each product line when choosing the food dryer product link .
SUNSAY freeze-drying technology
Freeze-drying technology is a closed-loop drying technology that does not draw outside air into or release air into the environment. Only the water is removed, the drying temperature is from 5 to 50 degrees Celsius. The cooling capacity is from 10 kg to 5 tons/dryer.
View product lines of refrigeration dryers .
SUNSAY . heat pump drying technology
Heat pump drying technology is a technology that uses a refrigeration system to separate moisture like freeze drying, but still sucks in air and releases moist air into the environment. Drying temperature from 40 to 60 degrees Celsius. Application heat pump drying capacity from 50 kg to 5 Tons / 1 dryer.
View the product line of heat pump dryers .
SUNSAY vacuum drying technology
Vacuum drying technology is a technology to dry products in a vacuum environment with a temperature of 45 to 65 degrees Celsius. The capacity of each drying batch is from 10 kg to 1 Ton / 1 machine.
SUNSAY sublimation drying technology
Sublimation drying is a technology that retains the best product size, shape, color, flavor and quality. The drying temperature can reach -45 degrees in a vacuum environment. Capacity per batch from 5 to 500 Kg / 1 drying time.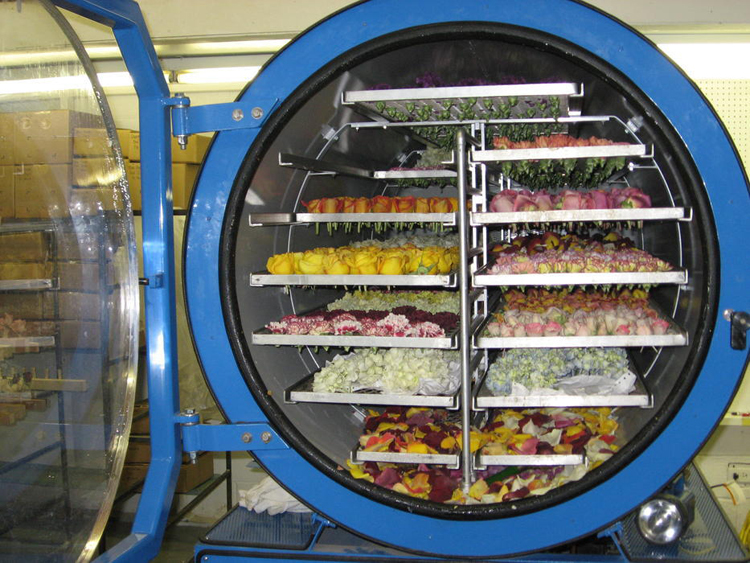 View the product line of sublimation dryers .
When do you need to use the food dryer rental service?
When researching new products

When you want to try the dryer SUNSAY

You want to focus on investing in a dryer with a large capacity?

Prioritize financial resources for other more important stages

No effective investment cost optimization

Want to use the right dryer according to the season.
Notes on using the dryer rental service
Selection of drying technology

The purpose you need to process.

Select the appropriate dryer capacity.

Determine the rental period.

Need to be consulted by a SUNSAY dryer consultant before choosing.
Reasons why you should choose SUNSAY food dryer rental service
Be consulted by the SUNSAY dryer support team.

SUNSAY dryers advise and help you optimize rental costs effectively before you choose.

Not only a

food dryer rental service

, SUNSAY supports you with the best quality drying recipes.

The quality of SUNSAY dryers has been confirmed in the market, SUNSAY is accompanying many domestic and foreign customers, using SUNSAY dryers helps you easily build a product brand.

With optimized drying technologies, you can save time, drying costs and quickly achieve the results you want.

Provide on-site dryers, attentive support services during the use of SUNSAY dryers.

Supported promotional activities and introduced dried products to customers and partners.
Video of food dryer SUNSAY
Contact to choose SUNSAY food dryer rental service
You can contact the hotline +84 94.110.8888 or provide information in the form below. SUNSAY dryer consulting team will call you back.
SUNSAY dryer hopes that you will have the opportunity to cooperate, accompany and help you be more successful in your production work through the rental service of food dryers .
From there, improving the processing and preservation capacity of Vietnamese agricultural products, businesses will strengthen their competitive advantages in the international market.