Do you know about dried tomato products ? It not only has a particularly delicious and novel taste, but also contains high nutritional value. So do you know how to create a delicious, quality product? Let's find out the simplest method with DRYER.
Tomatoes – what is it about dried tomatoes that people like so much
Tomatoes are a very nutritious fruit that contains abundant vitamins A, C, and K. In addition, the high potassium content helps lower blood sugar and reduce the risk of stroke. In addition, we also need to mention other vitamins such as B6, B9, B1 and trace minerals.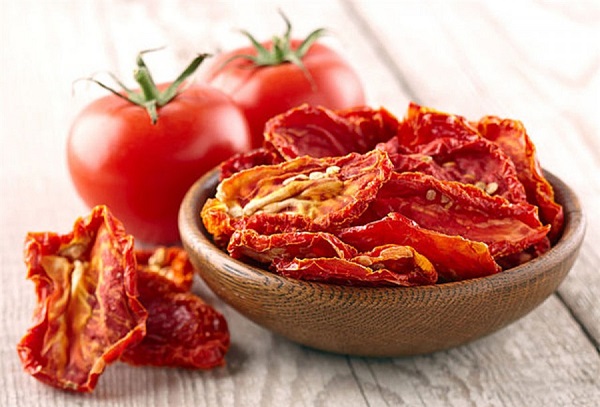 This food is very suitable for thirst quenching because it contains up to 95% water and the remaining 5% is fiber. Thanks to such an abundant source of nutrients, the dried tomatoes on the market bring a lot of health benefits.
Good for the heart
Because of its high fiber content and Vitamin C and potassium, it is very good for heart health to help support a healthy heart. As mentioned, tomatoes are very good at reducing the risk of stroke that occurs when the blood flow to a part of the body has been blocked. This is an excellent choice to strengthen the circulatory system of the parts where circulation takes place.
Reduce the risk of diabetes
Dried tomatoes have a low GI, so they do not raise blood sugar. It is therefore the best option recommended for use in most diabetic diets.
In addition, tomatoes also contain the antioxidant lycopene, which helps to restore biochemical balance, and the fiber content will improve blood sugar levels for people with type 1 and type 2 diabetes.
Helps strengthen bones
Lycopene also helps strengthen bones by maintaining a good ratio of calcium in the body. This type of food is really good for people with osteoporosis, the elderly or with joint pain.
Preventing cancer
Foods that are high in antioxidants have the ability to protect the body from the risk of cancer. Therefore, the antioxidants in these tomatoes are very good at reducing oxidation and chronic inflammation, minimizing the growth of cancer cells.
Food for smooth skin and strong hair
With an abundance of vitamins A, B, C, D, E and K to size the growth of healthier hair follicles, providing firmness and elasticity to the skin. That's why women often use this tomato to make a mask for their hair and skin.
How to make tomatoes dry quickly, ensuring the quality of the nutritional surface
After learning about the nutritional composition of tomatoes, you probably want to know how to make dried tomatoes so that they can be preserved longer but still retain the nutritional content inside.
SUNSAY freeze dryer  is the method that we mention first because:
Ensure food hygiene and safety because the materials used to make this machine are all 304 stainless steel to ensure no rust or oxidation during use.
Tomatoes after being dried still keep their beautiful color and high nutritional content.
The method of use is easy and simple.
Contact method to order dryer SUNSAY
In addition to tower dryers, SUNSAY Vietnam also provides other types of dryers such as: refrigeration dryers, sublimation dryers, heat dryers, rice dryers, and horizontal dryers.
Please contact Hotline (Zalo): +84 935.995.035 or call center +84 941.108.888 or leave information in the form and we will contact you right away.