Fresh lemons are a very popular fruit and similarly dried lemons also have outstanding uses. The way to process dried lemon is not as difficult as many other fruits. However, there are special notes for this fruit to be able to produce a dried titration dried lemon product.
How can dried lemons be used?
The uses of dried lemons are as diverse as fresh lemons, but not many people know about them. The most prominent is dried lemon which is considered as a dry tea often used to make detox water. It has the effect of purifying the body, losing weight, reducing stress, and creating a taste for hot water. Lemon peel when dried is very fragrant and can relieve cough and improve respiratory tract.
Besides, dried lemon can contribute to the beauty of women. Moreover, the use of dried lemon peel can also be used as medicine. The dried lemon peel contains vitamin C and citric acid, which helps eliminate wastes in the body, boosting immunity against cancer. Making dried lemons for storage and long-term preservation is always available at home for family health use is an available solution.
How to make dried lemon
Dried lemon is very easy to make but still requires the maker to know how and have tips to make the piece of lemon when dried will have a beautiful color and shape. After being harvested or bought, lemons will be washed and soaked with salt water to remove all dirt or pesticides remaining in the lemon peel because the lemon peel will be used directly. The lemon is then sliced ​​into thin slices about 0.5 cm, and the seeds are removed. Finally, arrange the lemon slices evenly on the drying trays and put them in the drying cage to set the appropriate temperature and time for the amount of fresh lemons.
Lemon drying tool
To be able to produce a batch of dried lemons with quality color and standard dryness, you should use a multi-purpose food dryer . The machine has many sizes and types of machines for you to choose the right one for each production scale and purpose.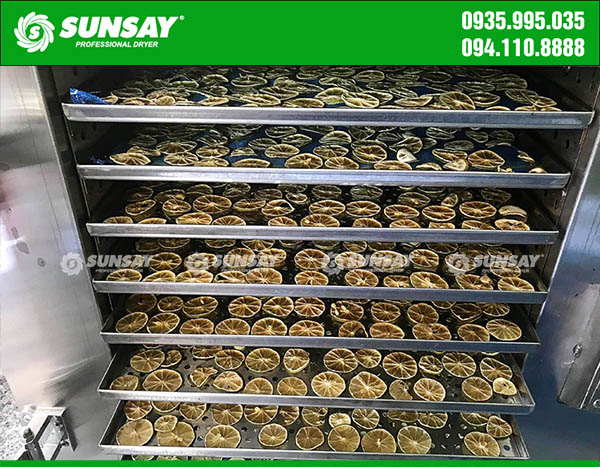 The materials used to make the machine are selected by the manufacturer and designed according to the most advanced technology. The heat generator set is set to semi-automatic which can automatically shut off when the set time has elapsed. The machine has wheels for easy movement and installation. Please choose a lemon dryer of a reputable brand to produce quality products.
SUNSAY Vietnam is confident to be a reputable supplier of dried lemon dryer
The SUNSAY Vietnam store system, which specializes in providing high-quality machine tools, will be a prestigious address for you to choose for your family or business a high-class lemon dryer. When you come to us, you will be supported with machine delivery and on-site installation.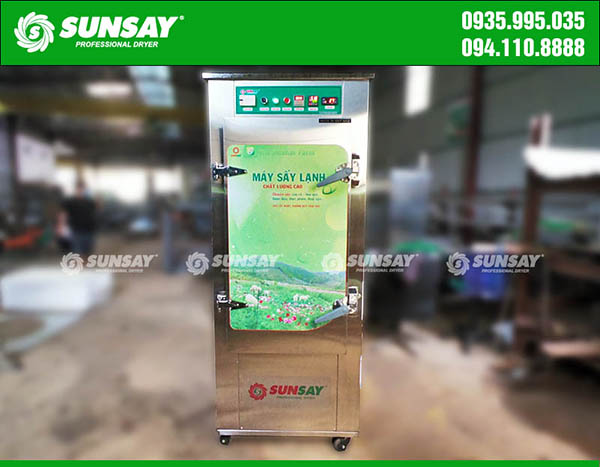 Our staff will accompany you during the first operation of the machine after installation to ensure there is no damage when moving. The product will be warranted for a period of 2 years if there is a technical defect from the manufacturer. Come to SUNSAY Vietnam we are always ready to serve.
For more information and prices of lemon dryer products, please contact us via hotline: 094 110 8888 .