Dried dragon fruit , Should you choose freeze drying or freeze drying SUNSAY?
Dragon fruit is a very popular fruit in Vietnam that provides a lot of iron and vitamin C, contains a small amount of nutritional value. It can be said that dragon fruit is a cheap and popular fruit, so when we dry dragon fruit to do business. Then you need to know this product, then choose which type of dryer is appropriate as well as ensure low investment costs. In this article, we will analyze and give appropriate information so that we can choose the appropriate SUNSAY dryer for drying dragon fruit.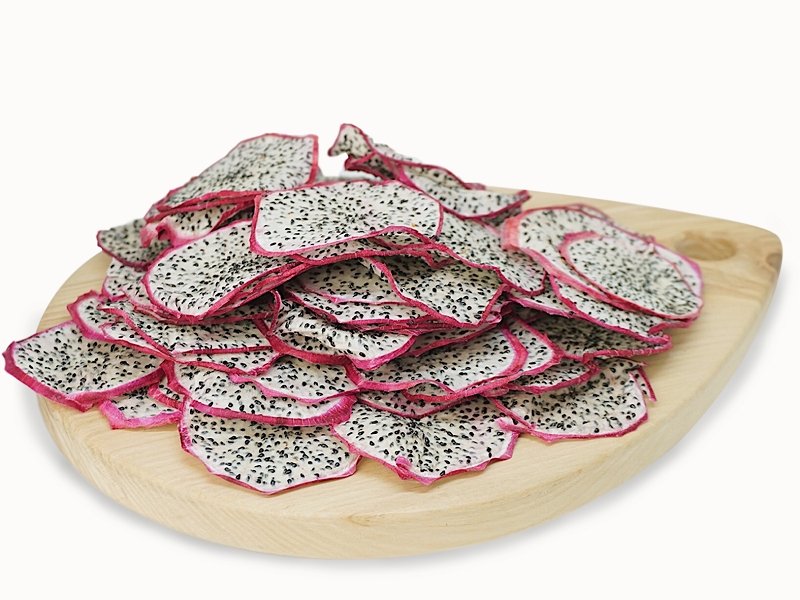 Characteristics of dried dragon fruit
Dragon fruit can be dried with a SUNSAY cold dryer, but besides that, dried dragon fruit can also be made with a heat dryer. This issue will depend on production requirements as well as production scale.
When dragon fruit is sliced, drying will become easier. This is also a very good product for human health because it is dried in a natural way.
In addition to natural drying, other factors such as high sugar content, cool temperature, rich in nutrients are also beneficial to health.
Dried dragon fruit can be used as a detox to drink instead of water every day, or can be eaten immediately. Normally, drying dragon fruit is very simple, not too difficult as we often think.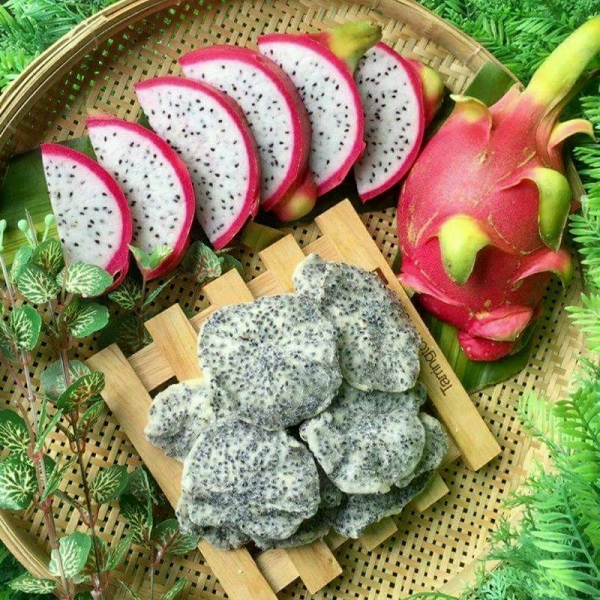 Production of dried dragon fruit by heat pump dryer (cold dryer)
When you want to dry dragon fruit for the purpose of creating a large quantity, using a SUNSAY cold dryer will give high efficiency.
Dragon fruit as well as other fruits want to preserve nutrition and keep the natural color when drying, you should choose to dry at low temperature. Therefore, the line of heat pump dryers is always a top priority to be suitable for investment costs. In addition, it also ensures high efficiency in business and produces beautiful dry sliced ​​products.
Fruit juice is usually made from cantaloupe, orange, dragon fruit, pear, apple, kiwi, pineapple and other fruits. These are all sliced ​​into thin slices from 5 to 10mm.
After the product is dried, the color will be reduced, but the flavor and color will still be preserved. This is one of the most popular ways to make fruit juice today.
If making plastic dried dragon fruit products , you should choose a SUNSAY cold dryer that will be suitable for the growing consumer market today and bring high economic efficiency.
Drying dragon fruit with SUNSAY . sublimation dryer
When we use a freeze-dried dryer to dry dragon fruit, it is possible to preserve the color of the product as well as the size is not reduced, the shape is not shrinking.
The sliced ​​dragon fruit when sublimated drying SUNSAY also did not flatten at all. If before drying a piece of dragon fruit has a thickness of 1cm, after it has been dried, it will still be preserved close to So.
But meanwhile, if using SUNSAY freeze drying method, the piece of fruit will be flattened to only about 3 to 5mm thick.
However, compared to SUNSAY freeze drying, SUNSAY sublimation drying is better, but not all products are suitable for sublimation drying because of its high cost. Normally, only products with high selling prices that are suitable for the market will choose SUNSAY freeze-drying. For example, drying kiwi, strawberry, ripe mango, durian, yellow flower tea, cordyceps, and roses are suitable for drying SUNSAY.
Hopefully with the information that we have shared above, we have a clear understanding of what type of dryer to choose to dry dragon fruit. Choosing the right type of SUNSAY dryer will bring high quality to the needs of production.
How much does a freeze dryer cost?
SUNSAY Refrigeration Dryer is a product researched and manufactured in Vietnam by experienced drying engineers. SUNSAY's mission is to improve the value of processing and preserving Vietnam's post-harvest agricultural products, contributing to solving the post-processing stage of the fruit industry. SUNSAY refrigeration dryer ensures the standards of quality, food safety and hygiene.

With reasonable prices, SUNSAY Vietnam believes that SUNSAY refrigeration dryers are completely worthy for you to invest and use for a long time, bringing the best efficiency.
SUNSAY refrigeration dryer brings a completely new and time-saving solution, reducing investment costs for users, bringing high economic efficiency.
SUNSAY dryer company now has many types of refrigeration dryer prices suitable for many production scales of people, from start-up scale production of 20 kg to medium scale 200-300 kg to large scale production of 5 tons of products. fresh assorted. The machine responds to fast drying time, keeps beautiful colors, is especially energy-saving and achieves high efficiency.
Contact method to order dryer SUNSAY
In addition to refrigeration dryers,  SUNSAY Vietnam also provides other types of dryers such as: rice dryers, and horizontal dryers, food dryer, sublimation dryers, …
Please contact Hotline (Zalo): +84 935.995.035 or call center +84 941.108.888 or leave information in the form and we will contact you right away.