Industrial food dryers currently on the market have many models, many different prices. However, businesses should choose professional and reputable suppliers and manufacturers of food dryers to ensure product quality and accompanying services instead of focusing too much on the "cheap" factor. Choosing quality products will bring you the highest efficiency, meet the needs of use and save costs for all users.
How much does an industrial food dryer cost?
It is difficult to have an exact answer, because for each type of machine, each manufacturer and distributor has a separate quote for the product line of industrial food dryers. In addition, the "expensive – cheap" factor also depends on the number of drying trays, the capacity depending on the needs of the customer.
Normally, a good industrial fruit and vegetable dryer will cost over 100 million with a drying chamber. The volume of fruit, food, agricultural products… can be up to several hundred kilograms, several tons or even tens of tons. Especially industrial dryers use cold drying technology to speed up product drying time.
For large product sizes, to meet the needs of use at businesses, the manufacturer will process the components first, then pack the materials and transport them to the customer's factory. At this time, the technician has just started the installation and test operation.
In general, depending on usage needs and scale, businesses should contact the supplier in advance for the most accurate advice and quote for industrial fruit dryers. Because when you choose a quality product that suits your needs, you will also bring higher efficiency.
High quality industrial food dryer SUNSAY
SUNSAY brand food dryer is applied with 3D wind convection technology, specializing in drying foods, vegetables, herbs, etc. The product uses advanced freeze-drying technology, helping food in the drying chamber not to be dried. These dry faster but also retain more than 90% of the original nutrients and flavors. At the same time, the drying process takes place faster, while optimizing costs, saving energy consumption, and maximizing profits.
Dryer products at SUNSAY are also very diverse in types and models. Customers can easily choose for themselves a product that best suits their requirements as well as their finances. Each type of food dryer provided at the unit is responsive to the unique use requirements and different sizes of production facilities. The diverse operating capacity along with impressive and modern design, smooth operation of the engine will surely bring users satisfaction.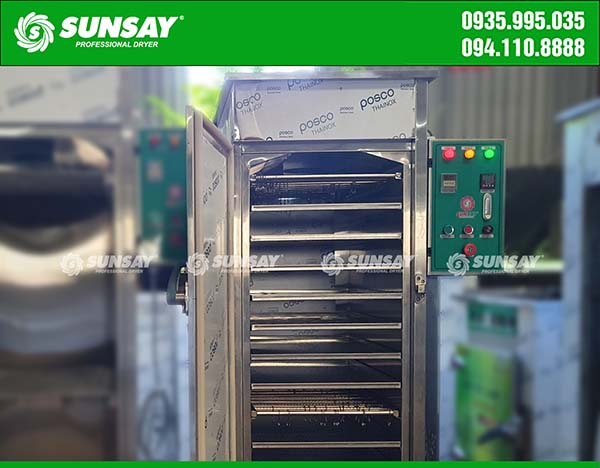 Why is SUNSAY the optimal choice for businesses?
SUNSAY is a brand with 10 years of experience in the field of manufacturing, providing solutions for drying and preserving food and agricultural products. Industrial fruit dryers, industrial fruit dryers… branded SUNSAY are very popular and trusted by small and medium enterprises in the market.
SUNSAY industrial food dryer is applied with advanced cold-drying technology from Europe, speeding up the drying process, saving electricity but still ensuring that food, vegetables and fruits after drying remain intact. Nutritious as well as fresh taste for a full-fledged family meal. It is also because of this that more and more users now prefer to use the unit's dryer products and appreciate the effectiveness of the product.
High quality anti-rust 304 stainless steel material, smart design, easy to disassemble the drying tray, convenient for cleaning maintenance, ensuring food safety and hygiene. When you use it, you can rest assured about the quality of this product. Because each type of dryer is designed with extremely durable materials, it will not be damaged over time. The material is very safe for the health of the user and can be cleaned easily.