How to make delicious and nutritious dried bananas with SUNSAY
Banana is a fruit native to Southeast Asia, grown in warm, tropical regions. With a rich source of fiber along with vitamin and mineral content, bananas bring great benefits to human health. On the market today, there are many banana-related products such as: banana cake, banana ice cream, banana powder, … and a product that is being loved by many people is dried banana.
The technological process of producing flexible dried bananas with a SUNSAY freeze dryer will be much simpler if you can clearly understand the basic technical process of how to process flexible dried bananas.
In order for the dried banana products to be delicious after processing and keep the highest quality, as well as to meet the standards of food safety and hygiene, the standards in the field of export of dried bananas, each stages must be carried out exactly according to the requirements in the processing technology process.
Through this article, SUNSAY Freeze Dryer will provide you with the secrets to produce delicious and export-standard dried bananas with high economic value.
Benefits of bananas for human health:
Maintain stable blood sugar levels

Improve digestive system, heart

Supports weight loss, reduces cravings

Anti-oxidant, reduce stress, stress
Which method should I choose to produce flexible dried bananas?
Currently, on the market, there are many products related to bananas such as: crispy dried bananas, banana powder, and flexible dried bananas. Each product will have different production methods. For flexible dried bananas, you can use both methods: hot and cold drying to separate the water from the bananas, keeping only the sugar and nutritional value inside.
Depending on the selection method, the dried banana product will have different qualities. Banana is a fruit with a large amount of sugar, soft body, easy to crush, so when dried at high temperature, bananas are easily turned black brown, nutrients are easily damaged, lose their aesthetic value.
The cold drying method is the opposite, bananas are dried at low temperatures for a long time, helping the surface of the bananas to shrink, keeping the color and natural flavor as the original. That's why SUNSAY introduces to you the freeze-drying method to produce flexible dried bananas.
Banana freeze drying principle of SUNSAY refrigeration dryer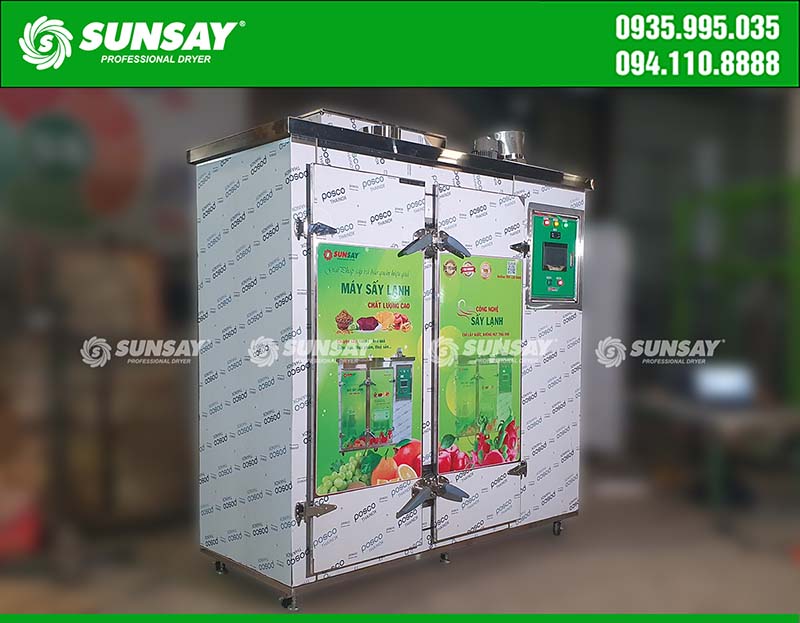 SUNSAY refrigeration dryer is adjusted to a low temperature of 15 – 50 degrees Celsius. The steam released from the banana will be completely condensed in the cold chamber, the hot air entering the drying chamber has a high degree of dryness, so the water vapor in the banana always diffuses outward. This process repeats continuously, helping bananas dry faster, ensuring nutrients, especially sugar in bananas are not lost, natural color, not darkening.
Basic process of producing flexible dried bananas by SUNSAY freeze-drying machine
Dried bananas are produced according to the following basic steps:
Step 1: Choose ripe banana ingredients to dry
Raw materials for the production of flexible dried bananas are diverse and abundant. You can choose any type of banana for drying, for example: western banana, porcelain banana, pepper banana…. However, the quality of color, flavor and nutritional content will be different when you choose. different drying materials.
In the process of choosing raw materials for the production of flexible dried bananas, it is necessary to pay attention to choosing evenly ripe bananas (if choosing old bananas, it will make the product acrid, choosing overripe bananas will easily become mushy, unsightly color. ). Rotten or moldy fruits should be removed so as not to affect the quality of the product.
Step 2: Material handling
Bananas after being harvested will be washed with the outer shell to remove dirt, microorganisms … clinging to the surface of the peel to ensure the safety of the user's health.
After washing, peel, wash the peeled bananas with lemon juice and salt to remove the banana plastic part, help the dried banana products not be acrid and the color is also more beautiful.
Depending on the purpose of production, bananas can be left whole or cut in half before drying.
To increase the deliciousness of dried bananas, you can marinate bananas with sugar water in the ratio you like. Marinate for about 1-2 hours for the sugar to be completely absorbed into the banana, then remove to drain.
Step 3: Dry the dried bananas with SUNSAY cold dryer
After being processed, bananas are placed on each drying tray of SUNSAY refrigeration dryer. It should be noted how to arrange banana slices so that they do not overlap, hindering the process of heat exchange and moisture drainage as well as air circulation for the fastest drying of bananas. This is the most important stage in the production of flexible dried bananas, the freshness and flavor of bananas will be determined during this drying process.
The drying temperature of flexible bananas by SUNSAY cold dryer is customized from 20 to 65 degrees C, the time of freezing depends on the technical requirements of processing dried bananas. The drying time and moisture loss are well controlled by the intelligent control process on the SUNSAY refrigeration dryer to ensure that the dried banana products are delicious, flexible and retain the same flavor and color.
When the dried bananas reach a certain degree of dryness, they are cooled and packaged and labeled.
Step 4: Packing and labeling
Dried bananas are usually sized and packaged in bags of 100 to 500 g for distribution to the market. Exported products are usually packed with larger sizes and weights, which can be from 10 to 20 kg per unit. The packaging stage can use a specialized packaging machine for flexible dried bananas.
Products before being released to the market are stamped with the brand label that you are building or required by partners. For the technology of producing flexible bananas by SUNSAY cold dryer, you can use the word " cold-dried banana" to distinguish it from other traditional hot drying methods to help customers easily identify product quality and Increase the sales value of your brand.
Advantages of dried bananas with freeze dryer SUNSAY Vietnam:
Quick drying process, saving time.

There is no need to turn bananas as often as traditional ovens and microwaves.

Banana dryer with cold drying technology is integrated with drying mode and cooling mode, convenient and hygienic.

Large, continuous drying capacity.
SUNSAY freeze dryer produces flexible dried bananas
In the production process of dried bananas, in addition to raw materials and processing technology, the freeze dryer is a very important drying device to contribute to the product meeting the quality requirements and export standards.
SUNSAY Refrigeration Machine is the leading supplier of equipment and processes for the production of flexible dried bananas in Vietnam. We are committed to being ready to accompany you from the preparation stage to the operation stage and also for a long time when the factory goes into production.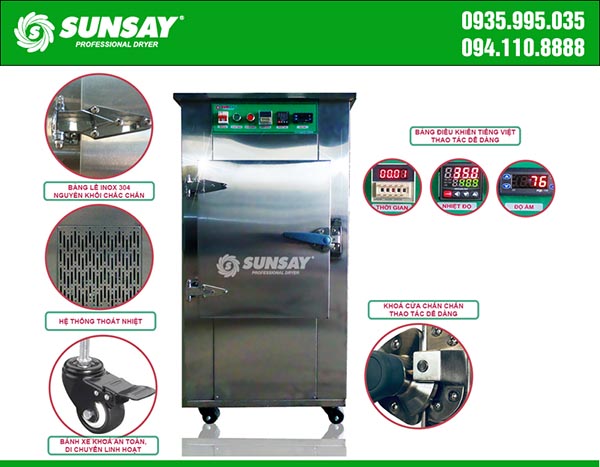 In order to ensure the quality of dried bananas, they are flexible, delicious in taste and still retain their shape, color, and good nutritional composition, meeting export requirements. Please contact SUNSAY Cooling Dryer for the best advice and support.
How much does a refrigerator dryer cost?
SUNSAY refrigeration dryer  is a product researched and manufactured in Vietnam by experienced drying engineers. SUNSAY's mission is to improve the value of processing and preserving Vietnam's post-harvest agricultural products, contributing to solving the post-processing stage of the fruit industry. SUNSAY refrigeration dryer ensures the standards of quality, food safety and hygiene.
With reasonable prices, SUNSAY Vietnam believes that SUNSAY refrigeration dryers are completely worth your investment and use for a long time, bringing the best efficiency.
SUNSAY refrigeration dryer brings a completely new and time-saving solution, reducing investment costs for users, bringing high economic efficiency.
SUNSAY dryer company now has many types of refrigeration dryer prices suitable for many production scales of people, from start-up scale production of 20 kg to medium scale 200 – 300 kg to large scale production of 5 tons of products. fresh assorted. The machine responds quickly to drying time, keeps beautiful colors, is especially energy-saving and has high efficiency.
SUNSAY Refrigeration Dryer Price
Please contact SUNSAY Vietnam dryer immediately for the price policy of refrigerated dryers.
Contact for drying samples from SUNSAY . refrigeration dryers
SUNSAY Refrigeration Dryer is having a sample drying program for customers to check quality and evaluate investment efficiency. Please contact SUNSAY Freeze Dryer immediately.
 SUNSAY Vietnam Refrigeration Dryer is always ready to advise and support on drying methods, ways to preserve food, fruits, agricultural products and aquatic products. SUNSAY refrigeration dryer brings a completely new and time-saving solution, reducing investment costs for users, bringing high economic efficiency. With a reasonable price, SUNSAY Vietnam believes that this device is completely worth your investment and use for a long time, bringing the best efficiency.
For detailed advice, please contact Hotline: 0935.995.035 or call center: 094.110.8888 for support.
Articles about drying products you need to pay attention to
Stay tuned and learn more about the content related to the secret of producing dried bananas through the following articles:
Banana freeze drying technology.

Points to note in the production of flexible dried bananas.

The difference between the two production methods of crispy dried bananas and dried bananas.

SUNSAY

industrial refrigeration dryer

system .

Process of producing dried green pepper by SUNSAY technology.