Passion fruit frozen by ICE COOL quick freezer keeps its natural flavor, this is a popular product, high economic value, easy to export.
What is Quick Freezing?
Quick freezing is a method to help products be frozen in the shortest time (Freezing in frozen state, product center reaches -18ºC). Fast freezing will keep the characteristics and natural structure of the product.
Fast freezing is decisive to the quality of the product and the efficiency of the freezing process depends on the fast or slow freezing time.
With the common characteristic of fresh foods being high water content (from 80 to 95%), the initial state of water is relatively uniformly distributed in the tissues, which is the component that makes up the typical structure for food. each type of product, however, in the freezing process, the crystallization of water tends to be from the outside to the center of the product, the slower the crystallization time, leading to the movement and compaction of water molecules gradually into the center of the product. centripetal, simultaneously with volume expansion and crystallization in the form of needles is the cause of breaking the natural structure of the product.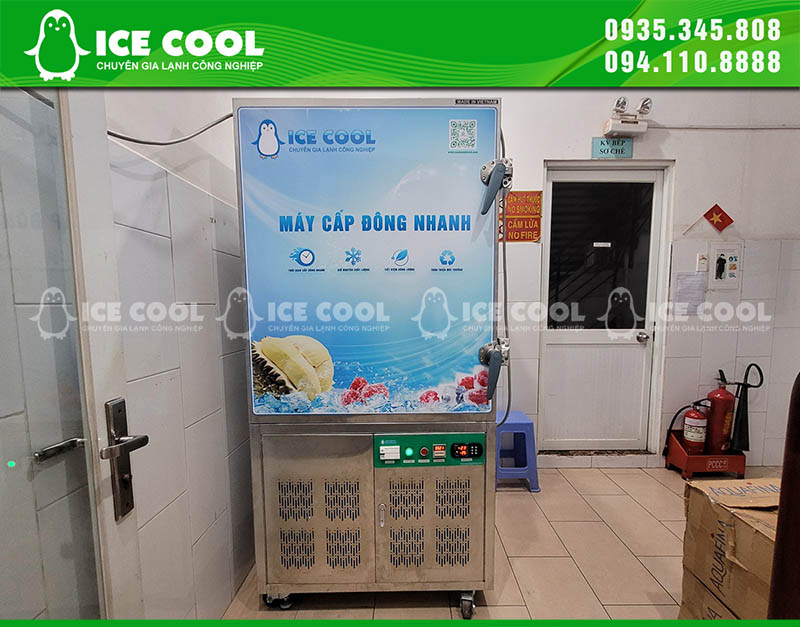 This phenomenon leads to the breakdown of cell tissue structure, which reduces product quality and easily penetrates microorganisms, causing rapid spoilage. On the other hand, when defrosting the product no longer retains its original structural state, the free water when escaping will lead to dissolved nutrients and the quality of the product will decrease.
Advantages of passion fruit frozen by quick freezer
Passion fruit frozen with a quick freezer will retain its natural properties, the structure of passion fruit as well as the nutritional components will be retained.
Passion fruit frozen with ICE COOL quick freezer will keep the highest quality

Increase the shelf life of passion fruit.

Can be sold out of season

It's been processed, so it's easier to export than fresh fruit

Reduce shipping volume

Frozen passion fruit is popular with many people
How is the ICE COOL brand durian quick freezing system?
The quick freezer works at minus -40 to -45 degrees Celsius. The quick freezer consists of trays, a stacking chamber and a deep negative refrigeration system.
Negative cold storage – 18 degrees Celsius used to preserve passion fruit after freezing.
For any need for advice and quotes for fast freezing machines, please contact Tel (Zalo): 094 110 8888 we will support you in the most detail.