Agricultural dryers are popular equipment on the market used to dry agricultural products. There are two common types that are hot heat dryers and cold heat dryers. In particular, the cold dryer is being preferred by many units, because of modern drying technology, it helps to keep the finished product's smell, taste, color and substance as it was at the beginning
So where is the reputable and quality place to sell cold agricultural products?
Follow along through the article below to choose for yourself a reliable address to help own genuine products.
Should you use a hot or cold agricultural dryers?
Agricultural dryers are a group of foods that bring a lot of nutritional value to humans. However, the shelf life is short, so it needs to be stored under strict temperature conditions. If the temperature is not suitable, it can cause the agricultural products to spoil, rot and mold.
For drying technology at high temperature often has the advantage of helping the product dry faster. However, due to the condensation of water vapor, it can easily lead to backflow into the drying tray, which can easily damage the product.
For refrigeration drying technology, modern drying technology is used at a low temperature of 20 to 50 degrees Celsius. This helps the product to be dried at the maximum level but without odor, taste and substance change. Therefore, the finished product after drying is preserved for a relatively long time. This is the reason why businesses prefer cold agricultural dryers.
So, depending on what your agricultural products are, what your production needs are, choose the most suitable machine to achieve the highest efficiency. If you are still wondering which machine to choose, go to reputable agricultural dryer sales addresses in the market for support.
You should not buy products floating on the market, products with no clear origin, because if unfortunately there is a problem during use, you will not receive timely support, thereby leading to the production process. Output is interrupted and interrupted.
Which agricultural dryer brand is the most prestigious on the market now?
With so many different types of agricultural machines coming from many different brands, consumers are prone to information interference, so they don't know how to choose the right one for their needs.
Today's article will introduce to you Vietnamese-branded SUNSAY agricultural dryers with Japanese technology. This is a line of machines using the most modern technology today, so it is guaranteed to satisfy all customers even the most fastidious.
The machine is made of high quality 304 stainless steel to ensure durability and gloss. This not only gives the product a long life, but also makes it easy to clean and wash, thereby ensuring hygiene during the drying process.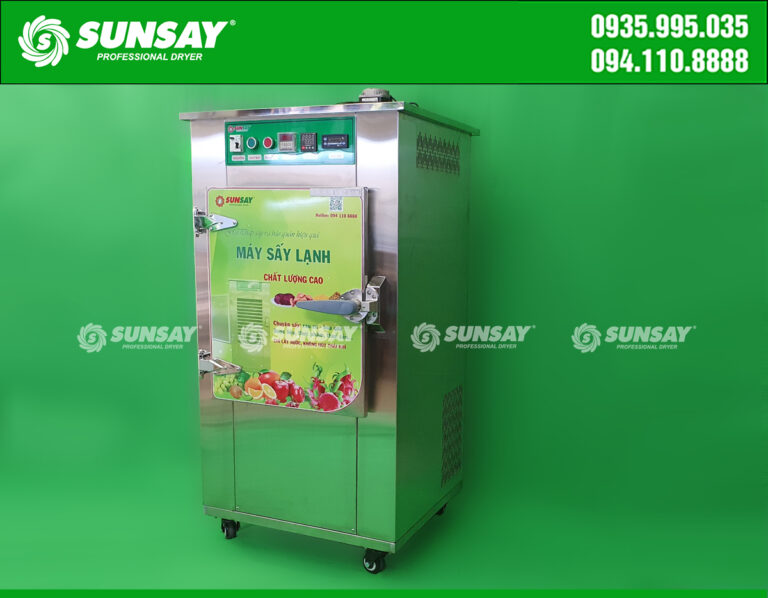 The machine is designed with many trays to help dry many different agricultural products at the same time. The drying trays have the thickness according to the standards, so they are guaranteed not to be damaged, punctured, torn, etc., so they will bring high quality finished products.
The frame of the machine and the door are designed with many layers of insulation, so the temperature is more stable in the drying chamber, thereby saving energy. You can test it yourself by touching the dryer while it is in the drying process, if it feels warm, this is a good product because of its good insulation. If it feels hot and burns your hands, this is just a normal product.

In addition, the SUNSAY dryer is also equipped with an intelligent controller that allows users to manually set and adjust the temperature to suit the agricultural products to be dried. And the modern heating system helps circulating hot air to circulate evenly in the drying chamber, thereby helping to push the steam out quickly so that the product can be dried in the shortest time.
Contact method to order dryer SUNSAY
In addition to refrigeration dryers, SUNSAY Vietnam also provides other types of dryers such as: rice dryers, and horizontal dryers, food dryer, sublimation dryers, …
Please contact Hotline (Zalo): +84 935.995.035 or call center +84 941.108.888 or leave information in the form and we will contact you right away.