​ ​Sunsay 20 trays food dryer, this is the most modern and advanced drying equipment, with smart drying technology, fast drying, food drying products keep the highest quality, using technology 3D wind convection. As the most advanced drying technology today, by drying at a wide temperature range from 50 – 90 degrees Celsius, it is used to dry common products such as fruits, food, agricultural products, grains, etc. medicine,…
Through learning about the existing food dryer suppliers on the market, with guidance and recommendations from friends and colleagues, Mr. Long and his wife trusted to choose a 20 tray food dryer in Nghe An. branded SUNSAY for drying cereal products.
Food drying machine 20 trays – Food drying technology of SUNSAY Vietnam
SUNSAY 20 trays dryer with drying capacity from 90 to 100kg, the machine uses materials made entirely of stainless steel 304 specialized in the food industry, ensuring the highest hygiene and safety.
Food dryer  20 trays with smart design, has many new innovations that allow fast drying performance, the ability to work continuously all day. This is the leading brand in Vietnam in providing drying and preservation solutions, 20 trays food dryer is a drying device that retains good quality, scent, color and natural taste of dried products.
Pictures of 20 trays food dryer and some pictures of drying products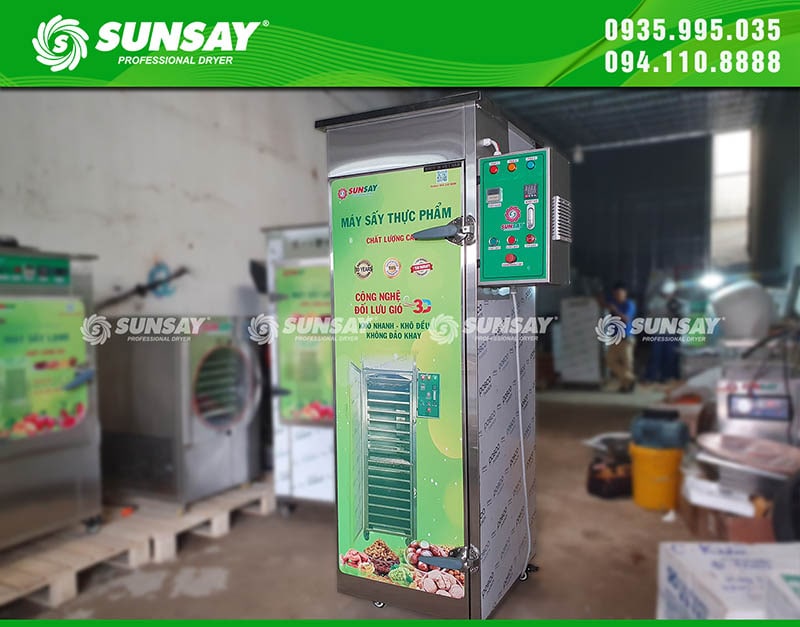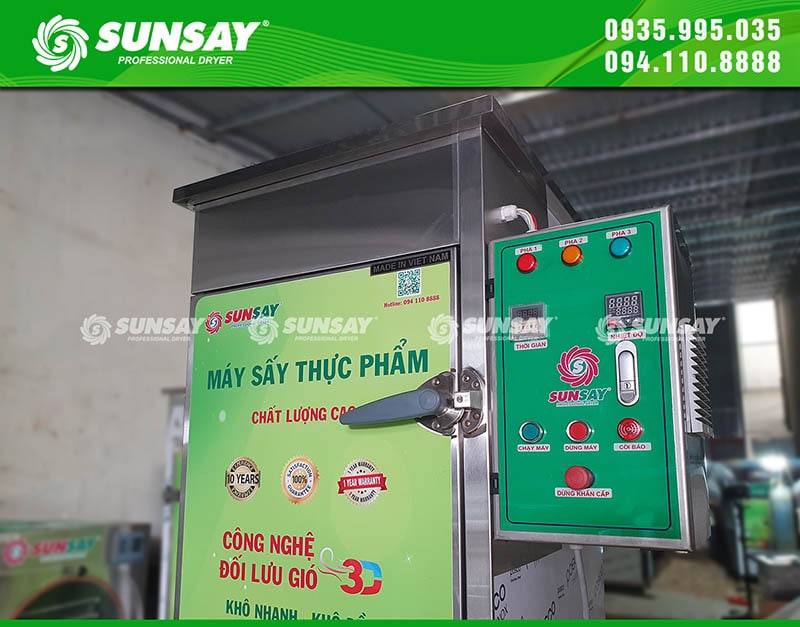 Contact to order food dryer SUNSAY
Supply and installation of food dryers  at customers' places.
For customers who do not have enough investment funds. SUNSAY offers dryer rental solutions. Customers only need to pay a fee smaller than the cost of the machine to be able to operate the machine and put it into production. When customers have enough funds, they can buy the machine at the best price.

For customers who use seasonal dryers, they can cooperate with SUNSAY to sub-lease or process drying for other products during periods of time when the machine is not in use.
In addition, SUNSAY also provides investment consulting, design and supervision services for drying plants for inexperienced units in the field of investment in industrial drying systems.
SUNSAY Vietnam is always ready to advise and support on drying methods, ways to preserve food, fruits, agricultural products…
For any need for advice and quotation of 30 trays food dryers and dryers in Nghe An, please contact Tel (Zalo): 094 110 8888 or SUNSAY we will support in the most detailed way. .