2-axis crusher destroys plastic pallets
, wood and other types of waste from domestic to industrial. The 2-axis crusher is a solution for processing large-sized waste materials into small sizes for easy handling in the next stages.
Features of GREEN MECH 2 shaft mill
The GREEN MECH 2 Shaft Crusher is designed for a wide array of applications and industries, suitable for shredding solid materials such as e-waste, metal, wood, plastic, tire scrap, building materials, etc. packing cartons, pallets,…. Material handling for the following process, the scrap material can be used directly or transferred to the next size reduction step.
The GREEN MECH 2 Shaft Crusher has two rotors that rotate at low speed, high torque and low noise. Adopt siemens logo microcomputer control system with automatic start, stop, reverse sensor to protect the machine against overload and jam.
Application of 2 shaft crusher
The 2 Shaft Crusher is our regular mid-size two-shaft shredder series. Suitable for crushing plastic drums, metal drums, large pipes, pipe fittings, forklift braces, tires, packaging boxes, aluminum, copper and steel less than 5mm.
It is widely used in industrial waste recycling, medical recycling, electronic recycling, pallet recycling, municipal solid waste recycling, plastic recycling, industrial tire recycling, papermaking and etc
Mini 2 Shaft Crusher
Industrial 2-axis crusher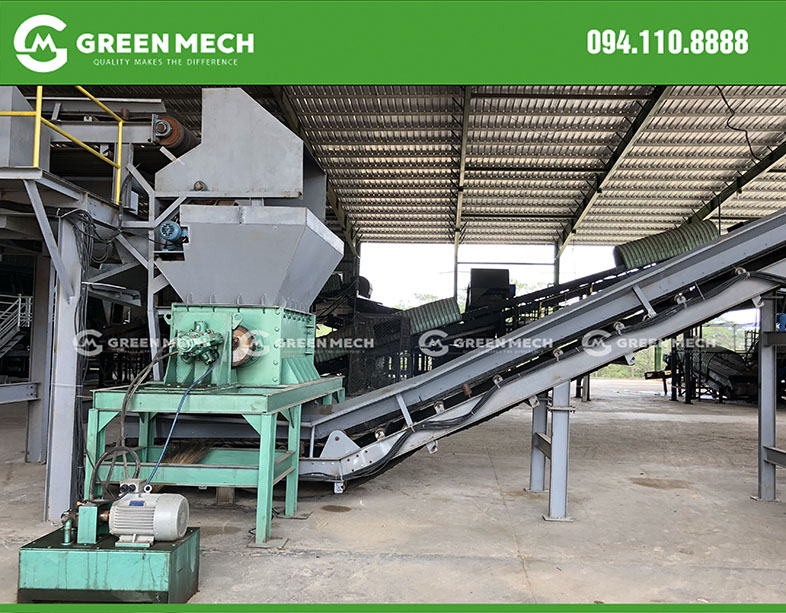 Contact for price of 2-shaft crusher
To own a 2-shaft crusher, GREEN MECH is a reputable unit so that you can have a more cost-effective solution for you.
For more information, you can immediately contact the Hotline (Zalo): 0935940.886   or call the switchboard number: +84 941.108.8 888   or leave your information in the Form form and we will contact you right away.
In addition, the 2-axis crusher can be used to break pallets into small pieces to be fed into a wood waste incinerator or boiler.
User manual for mini garbage shredder