Wood chipper knife
sharpenerGREEN MECH for efficient productivity, Currently in our country, the wood industry is on a strong growth momentum, In this woodworking industry, Knife sharpening machine is a type of machine. widely used in industrial fields.
Structural features
Knife sharpener Can be applied in areas such as wood chipping knife sharpener, plastic chopping knife sharpener, paper shredding knife sharpener…
The machine tool is composed of machine body, working table, linear slider, sliding block, reducer motor, grinding head motor, cooling system and other parts.
The structure of each part is compact, the appearance is beautiful and reasonable, the grinding head moves at a uniform speed.
The machine has volume It is small, light in weight, for fast efficiency, stable in operation and easy to adjust, suitable for all kinds of straight edge cutting tools.
This is considered one of the best applications for the woodworking industry today. The use of a wood chipper is to shred the wood or board into chips.
Finished wood chips are used for export processing factories to produce paper. In addition, wood chips are also fuel for boilers, raw materials for grinding into sawdust for the production line of sawdust pellets.
This is a wood cutting knife sharpener made of pure cast iron, with an iron-carbon alloy with a carbon content greater than 2.14%, subject to static loads and less impact resistance, wear-resistant parts, working in difficult lubricating conditions. Therefore, it is possible to sharpen the knife stably, with high precision, durable quality, the blade to create the initiative and prolong the life of the knife and the chopper, the mill, improving the work quickly and efficiently. than.
GREEN MECH Vietnam specializes in providing woodworking machines and also provides knife sharpeners to meet the needs of manufacturing plants in the wood processing process.
The machine with durable material, stably sharpens the knife to prolong the life time of the wood chipper. help the wood chipper work better to bring high efficiency in the production and processing of wood industry.
Operating instructions for wood chipper knife sharpener
Videos of knife sharpener for wood chipping, plastic chopping
Over the years, GREEN MECH Vietnam has always been market-oriented and constantly developing new products to meet the needs of users, while strictly following the industrial principle: "Product quality, sincere service and ensure the trust of customers nationwide.
For more information about wood chipper knife sharpener, please contact phone number:  0935 940 886  or call center: +84 94 110 8888
The image of the GREEN MECH hash knife sharpener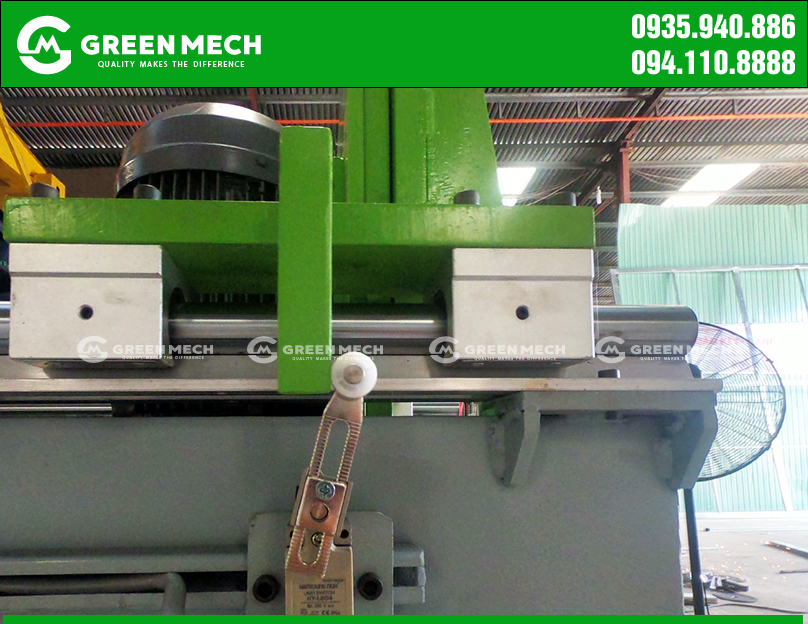 For any need for advice, quotation of wood chipper, plastic shredder, customers contact the phone number (Zalo): 094 110 8888 we will support in the most detailed way.