Walnut wood crusher is widely used equipment in wood manufacturing industry. Products were born to meet the production needs of businesses. The product brings a lot of advantages and great benefits to users. Let's learn more about walnut wood crusher through the following article content.
What is Walnut Wood? What's the advantage?
Walnut is a hardwood of the United States, they are not commonly found in Asia because the climate is not suitable. The color of the walnut wood is creamy white, the heartwood is like chocolate. Walnut thrives in areas with moist weather and fertile soil.
Walnut wood appeared in the Vietnamese market in the years 2007-2008 through interior products imported from abroad. And those products are widely accepted and used in our country. 
Since then, the demand for walnut wood in our country is increasing day by day. The reason is because walnut wood offers superior advantages over other types of wood. Eg:
Good durability: Because it is imported wood, it is resistant to warping and extremely durable. It is resistant to external influences such as weather, temperature, etc.

Good bearing capacity: after a long time of use, products made from walnut wood retain their shape and structure. Everything remains the same as before. 

Easily formed: walnut is a special wood when it is able to bend easily with steam. From there, it is possible to create many products with different shapes in production. 

High aesthetics: walnut color looks very luxurious and classy. The longer the color is used, the more beautiful it will be and show its value. The ridges are also extremely sophisticated to bring difference and class to the user.
Introduction of walnut wood crusher 
Because of such high demand, walnut wood crusher has become an indispensable equipment in life. Walnut wood crusher is used to process defective products, excess walnut wood, … into sawdust or shavings.
Finished products will then be delivered to the purchasing units to be used as fertilizer for agriculture, pressed wood, etc. Using a walnut wood crusher will reduce the waste of factories and turn them into a valuable object. value and profit. 
Walnut wood crusher is equipped with parts to help grind and grind walnut wood into sawdust quickly. The outer frame is made of high-quality materials to help reduce loud noises and strong vibrations during operation. 
Address to supply prestigious and quality walnut wood crusher
Currently on the market there are many units providing walnut wood crusher, each product is applied with different technology. However, walnut wood crusher from GREEN MECH brand is one of the most popular products.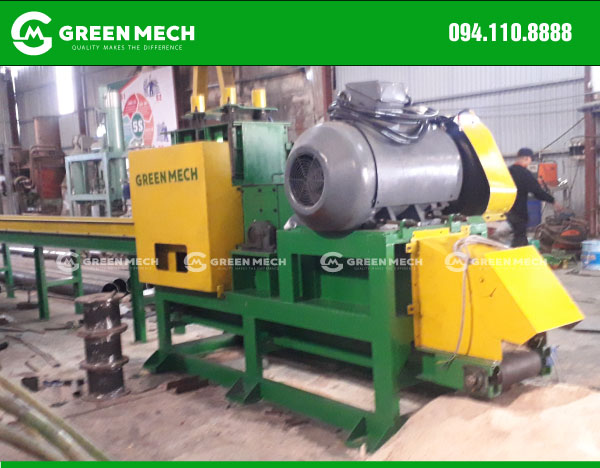 GREEN MECH is a brand specializing in providing prestigious shredders, crushers, etc. to the market. GREEN MECH walnut wood chipper products are manufactured on modern lines, with parts imported from abroad to ensure durability and working capacity.
In addition, the price of the product at the unit is also extremely affordable and competitive compared to the market. For advice and more details about GREEN MECH walnut wood crusher , contact us immediately via hotline +84 94 110 8888 for more specific advice.