Currently, SUNSAY vegetable dryer is a product that many people trust to use. This is also a solution that many businesses appreciate. However, not everyone understands all the advantages it brings. Please refer to the following article to learn more about this dryer.
Advantages of using a vegetable dryer SUNSAY
Vegetable dryers in general and SUNSAY vegetable dryers in particular offer users many outstanding advantages. Each type of dryer has its own strengths and meets different requirements of users. This is a modern solution suitable for most business units that need to dry vegetables in a short time and in large quantities. Specifically:
Versatile drying with wide drying range
This is one of the outstanding advantages of this type of dryer. SUNSAY dryer can be dried for many different purposes, drying a variety of vegetables, so it is very convenient to use. In addition to vegetables, you can also dry seafood and medicinal herbs with very simple operations.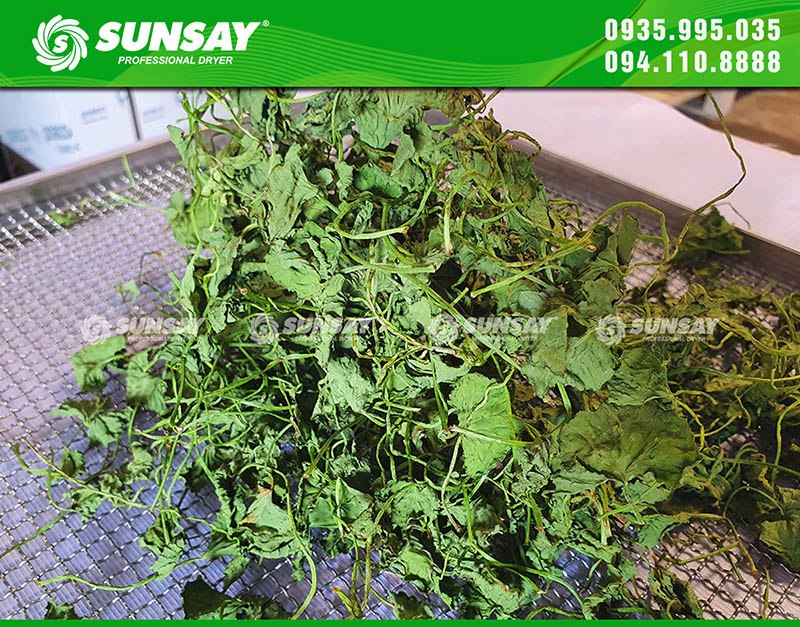 Guaranteed quality of vegetables
When drying with SUNSAY dryer technology, the quality is also much better than the traditional drying method. From flavor, color to aroma, nutrition is fully retained. The finished product after drying will be evenly colored and can be preserved for a longer time. Vegetables do not lose nutrients thanks to the intelligent drying system with the right humidity.
Energy saving
It can be said that SUNSAY dryer is one of the most prestigious and modern vegetable dryers today. You can shorten the drying time quite a lot and also save energy consumption. Smart drying mode also brings convenience to users when you can adjust the drying time and temperature.
Easy to install and move
The smart design of SUNSAY dryer also helps users to move and install extremely flexibly and easily. SUNSAY vegetable dryer products also have many types to meet the requirements of large and small production scale of each unit. Therefore, when using it, you can also install it in spaces that are suitable for your production scale.
The most prestigious address to buy vegetable dryer SUNSAY
For a long time, the SUNSAY brand of dryers has been favored by many users. However, whether to buy this product in any unit is also a concern of many people. If you are learning about this product line, please contact SUNSAY Vietnam immediately.
This is a direct distributor of SUNSAY dryer products of various types to meet the needs of all customers. We have many years of experience in providing dryers for businesses as well as large and small production units. So staff will advise you on the best and most modern products at competitive prices.
The company will give customers the best solutions by its experience. Customers will also receive dedicated advice and support to install the vegetable dryer in a fast time and with high quality.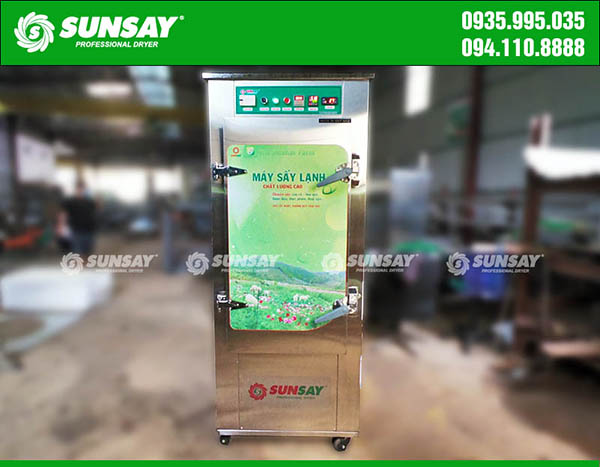 It can be said that the SUNSAY vegetable dryer line is a modern advanced product with an impressive design, simple but still extremely luxurious. The drying system with a closed process to ensure food hygiene and safety will give you peace of mind when using.
The warranty is also our long-term commitment to customers and helps you have the best price policies. In general, with many smart features, SUNSAY vegetable dryer is the choice that you should not miss. This is also a product chosen by many large and small businesses on the market today.
You can contact SUNSAY Vietnam for a support staff to answer all information related to the vegetable dryer. With professionalism and dedication, we will bring all customers satisfaction in quality. Hopefully the above sharing has helped you better understand this product and buy for your unit versatile dryer products that meet production needs.