Dried kiwi is a luxurious fruit snack and is loved by many people. Dried fruit in general has become popular and close to many people. In which, dried kiwi is also such a dish. Today's article we will provide you with interesting knowledge about dried kiwi. 
Uses of dried kiwi 
Kiwi has always been known as a fruit that is rich in nutrients and minerals that are good for human health. So whether dried kiwi is as good as fresh kiwi will be a question that many people are interested in. 
Dried kiwi contains many vitamins, especially good for skin and eyes. Regular use of dried kiwi will help your eyes stay bright, and your skin and body will always be healthy. 
On the other hand, dried kiwi has a very good effect on the human digestive system. Kiwi helps provide a good amount of fiber as well as essential minerals to help us always have a healthy digestive system. 
More specifically, dried kiwi also helps strengthen the body's resistance quite effectively. Kiwi but a food that supports health in the most natural way.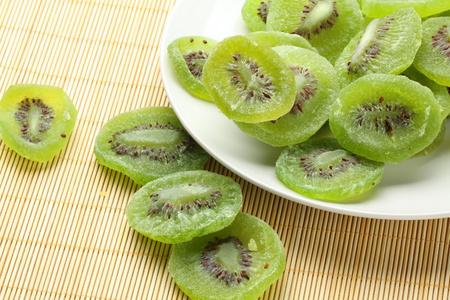 Process of making dried kiwi with SUNSAY dryer
SUNSAY brand is now the most prestigious dryer brand in providing high quality dryers. Including dryer kiwi and other fruits. 
The process of making dried kiwi with SUNSAY dryer is very quick, convenient and has excellent quality. 
To be able to make dried kiwi, we first need to prepare the ingredients. Fresh kiwis are selected as moderately ripe, do not choose too soft ripe kiwis, nor should they choose kiwis that are too green, they will be acrid and the dried dish will not taste good. 
After choosing a fresh kiwi, we will continue to wash it with clean water, removing all the dirt remaining on the fruit. Then proceed to peel. The kiwi peeling stage can be done manually or using a dedicated knife system.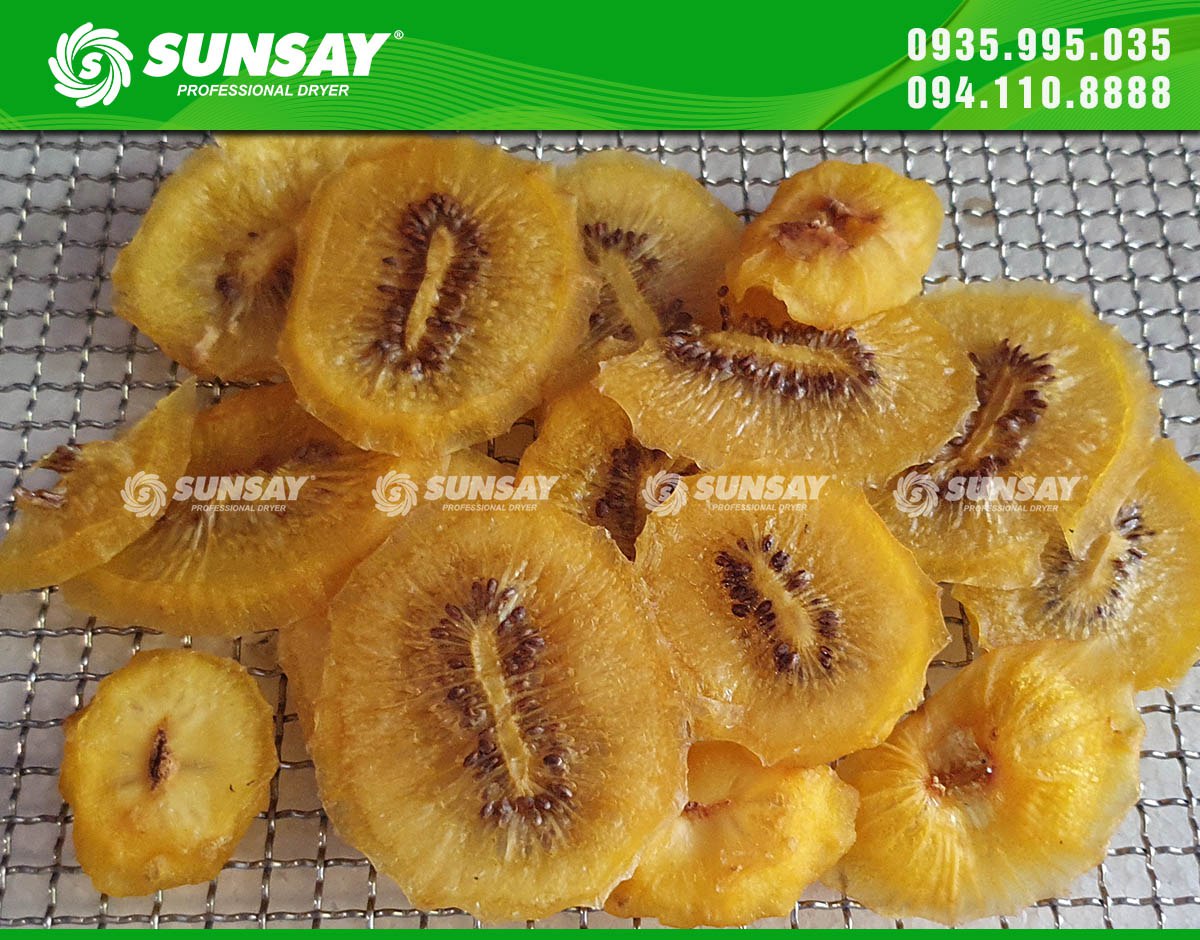 Kiwi after being peeled will be sliced ​​just right. The next step is to quickly blanch fresh kiwi in hot water. Kiwi after being blanched will have a certain softness. This step helps kiwi keep its natural color. 
After that, we will proceed to arrange the kiwi in the tray of the dryer and set the appropriate drying mode. The dried kiwi fruit will be delicious and eye-catching batches of kiwi. In particular, eating kiwi is still flexible, soft and not dry. Dried kiwi is especially suitable for the elderly, children or sick people, sick people…
That is also the characteristic of dried fruit products compared to dried crunchy. Each type will have different flavors and are all special. Which method to choose depends on the purpose of the dried products. 
Currently, SUNSAY system supplies and installs dryers all over the country. The SUNSAY dryer creates the most outstanding, modern kiwi drying process available today. Provides the best drying quality. 
If you want to learn about different types of dryers and want to experience the professional drying process, please contact us immediately by phone number +84 94 110 8888 for support. The staff of SUNSAY extremely dedicated will guide you in the most enthusiastic way.