The rotary drum dough mixer performs a 360-degree rotating mixing motion to help the product be mixed most evenly compared to other mixers. The rotary drum mixer is suitable for all kinds of powders that require the highest level of uniform mixing.
The dough mixer by rotary drum technology is one of the food processing equipment, the machine works by mixing the dough quickly and achieving effective productivity, saving cost, time, as well as size. Compact size saves installation space.
Structure of the rotating barrel dough mixer
The rotary drum mixer has the following structure:
The circular cylindrical mixer can be rotated 360 degrees along the length of the mixing barrel.
Mixing tank door cover for loading and unloading.
The mixing wing in the middle of the barrel has mixing blades to ensure the fastest consistency and beat up.
Drive mechanism for barrel and shaft.
Geared motor for 2 rotating mechanisms.
Mixer frame
Material trough
Control cabinet for mixer.
Working principle of rotary drum dough mixer
The powders or ingredients to be mixed will be loaded into the mixer through the inlet port.
The control cabinet allows to operate the mixer shaft and mixing tank on demand and to set the time for each batch.
When the drum mixer is in operation, the mixing blades in the drum rotate at the same time as the drum rotates.
The powder is continuously moved from one end to the other end of the mixing tank, thanks to the high-speed rotating blades, the mixing materials are quickly disintegrated and mixed together.
When the batch is completed, the buzzer will signal the completion and the mixer will stop.
The operator opens the lid and discharges the material into the trough below and continues with a new batch.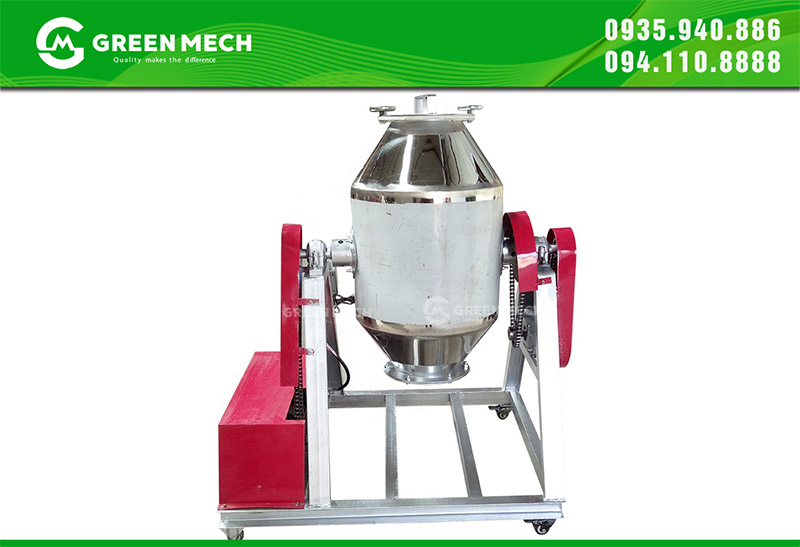 Materials suitable for rotary drum dough mixer
Types of cereal flour
Types of tea, coffee
Food powders
Industrial additives
Note when buying a rotating drum dough mixer
Materials with high adhesion, slurry, and slurry will not be suitable for this type of rotary drum mixer.
Suitable for materials that are dry, loose or when mixed with moisture spray but not enough water/solution to convert to a slurry or paste or strongly adherent form.
Why should you choose a rotary mixer?
Mixing super evenly, super fast thanks to the principle of rotating barrel and mixing shaft. Unlike the U-shaped mixer, only the mixing arm and the tank stand still.
The machine is made of INOX SUS 304, ensuring food safety and anti-corrosion for additives.
Designed and engineered by GREEN MECH Vietnam and improved every year to improve quality.
Easy to operate, operator does not need expertise.
The machine works stably and durable over time.
The address of selling super even rotating drum powder mixer
Any need for advice to invest in a super even and fast rotating drum mixer. Please immediately contact the hotline of GREEN MECH Vietnam: +84 94.110.8888 for the best support.