Is dried jackfruit good? Should you eat dried jackfruit regularly? … These are the questions that a lot of people ask today. To answer this question, let's find out more detailed information through the article below.
Is dried jackfruit good and the outstanding uses of dried jackfruit?
To clearly answer the question of whether dried jackfruit is good, we will learn together about the use of this product line for human health. Jackfruit is known as one of the tropical fruits that are loved by many people because they have a delicious, extremely attractive taste. In the jackfruit contains an extremely large nutritional content such as; vitamin a, vitamin C, potassium, calcium, iron,….
In particular, in our country, jackfruit is loved by many people and uses them in many different ways such as: fresh jackfruit, dried jackfruit, smoothies… In which, dried jackfruit is a product line sold everywhere in the market. school.
So is dried jackfruit good, let's take a look at their special uses:
Dried jackfruit has a lot of fiber, which is good for your digestive tract to be healthier. From there, your digestive system will work better, prevent constipation, help remove mucous membranes clinging to the intestinal wall and reduce the risk of colon cancer.

In dried jackfruit, there is an abundant amount of vitamin C, so dried jackfruit has the effect of helping to strengthen the immune system for your body. Helps the body to fight against viral or bacterial infections.

The large amount of potassium in dried jackfruit will help promote the health of your cardiovascular system. This helps to regulate the heart rate as well as reduce high blood pressure. Instantly replenishes a large source of energy for the body, reduces stress and helps focus the mind.

Dried jackfruit contains a lot of calcium and iron, making them an extremely energetic snack and very good for your bones, making them stronger and preventing anemia.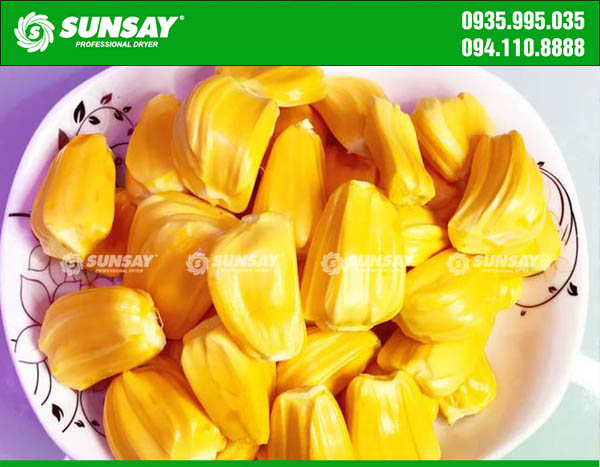 How to make dried jackfruit with industrial dryer SUNSAY
The great use of dried jackfruit has helped you answer the question of whether dried jackfruit is good. So how to make dried jackfruit and how to preserve them? This is also a problem that many people are interested in when the amount of dried jackfruit used is increasing.
Currently, to obtain high quality dried jackfruit in a short time, people often use industrial dryers to make dried jackfruit.
However, you should note, the quality of the machine will greatly affect the quality of dried jackfruit produced. Therefore, you need to choose a line of industrial dryers with high quality and reputation in the market.
If you are still worried about where to buy an industrial dryer , SUNSAY dryer is the product line you should learn and consider. Designed and installed on modern technology lines. SUNSAY industrial dryers always bring great value to users. Products made up of SUNSAY industrial dryers are always guaranteed in terms of quality and value when put on the market. Therefore, SUNSAY dryer products are always trusted and chosen by a large number of customers.
We are constantly innovating and improving many outstanding features to bring you the best quality products. Please pick up the phone and call us via hotline +84 941108888 to order the product as soon as possible.