1-axis glue peeling machine is a widely used equipment in export woodchip factories. The machine has both the function of cleaning the bark and is used to feed the wood evenly into the chipper system, helping to stabilize the wood feeding process and improve the efficiency of the wood chipper. GREEN MECH designed a 1-axis glue peeler with solid structure and highest performance in all models, the ability to peel glue from 5-7 tons, in addition to peeling glue, the supply capacity reaches 30 Tons. for the supply of wood to the chipper is a solution that should be considered when investing in a wood chipper factory for export.
Glue peeling machine manufactured by GREEN MECH has a sturdy frame, high durability, good bearing capacity, ensuring safety when the machine is in operation.
Pictures of 1 axis glue peeling machine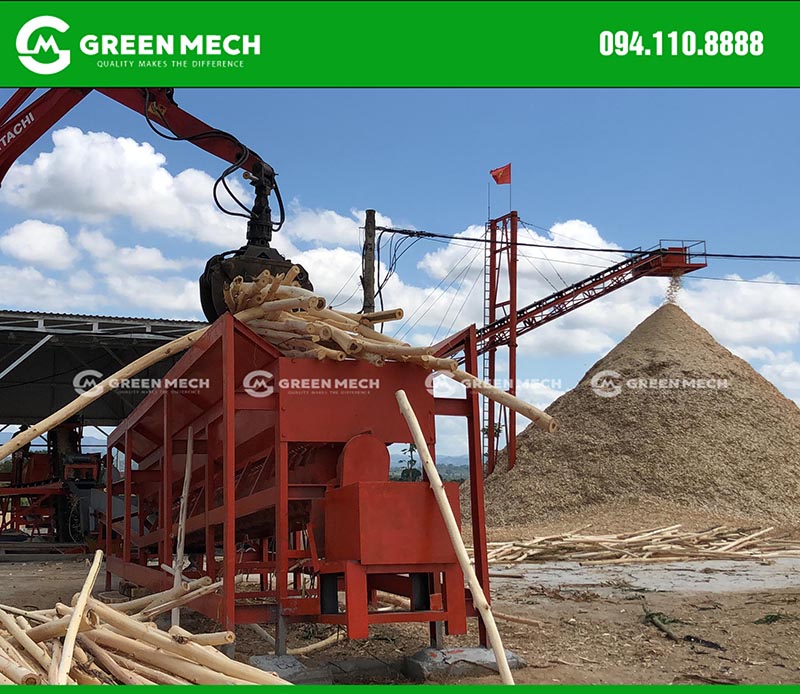 Factory video using 1-axis glue peeling machine
A reputable tree peeling machine supplier in Vietnam
GREEN MECH company is a professional supplier of bark peeling machines from Vietnam for wood processing plants. The GREEN MECH tree barking machine is one of the most selected glue peeling machines for the production of wood chips over the years.
GREEN MECH tree barking machine is a product researched and manufactured in Vietnam based on Japanese technology by engineers with long experience and suitable for wood grown in Vietnam. The mission of GREEN MECH is to improve the processing value of forest products, contributing to solving the post-processing stage of the forestry industry.
The GREEN MECH tree peeling machine ensures quality, safety and efficiency standards.
In addition to peeling trees, you can refer to the lines of wood chippers, wood crushers, sawdust mills, wood chip sieves and other woodworking machines of GREEN MECH.
If you are looking for a tree peeling machine supplier, please contact us. GREEN MECH Vietnam is looking forward to cooperation.
Máy bóc vỏ cây GREEN MECH
GREEN MECH always offers reliable quality and excellent after-sales service of the tree barking machine, we get a lot of trust from our customers.
Quotation of tree peeling machine GREEN MECH ONLY
Peeling machine Designed according to industry standards with reasonable price, GREEN MECH Vietnam brings you a completely new solution, saving time and electricity costs. The GREEN MECH tree bark peeling machine is absolutely worth your investment and use for a long time, bringing the best efficiency.
GREEN MECH Vietnam bark peeling machine is always ready to advise and support on how to choose the right glue peeler, plant design and provide quality technology transfer, peel off, bring a suitable solution. most suitable and effective.
For detailed advice on the GREEN MECH tree peeling machine, please contact Hotline (Zalo): 0935.940.886   or call the switchboard: +84 94.110.8888 for support.
Thank you!