Production process of freeze-dried lemons by SUNSAY technology.
Why is freeze-dried lemon so popular?
Lemon has the scientific name of Cirus aurantifolia, belonging to the family Rutaceae. In Vietnam, lemons are also known by other names such as: Lemon ta, in Thai called Ma Dieu, in Tay known as Mac cheng, in Dao as Pieu sui… Lemon is a citrus fruit with sour taste. green when ripe turns yellow.
Lemons have up to 89% water and a large amount of vitamin C. Lemon contains a lot of fiber, a small amount of sugar and protein along with vitamins such as vitamins C, D, E, K, A, B1, B2 , B3… In addition, lemon contains a number of minerals such as calcium, iron, magnesium, potassium, zinc, manganese, sodium… Thanks to those nutritional ingredients, lemon is a great choice to become a detox drink. Body purification is popular with many people, especially women, bringing great value to human health.
Today, freeze-dried lemons are used a lot in the market. However, to become a freeze-dried lemon factory that fully meets the quality standards, you not only need to invest in machinery and equipment but also need to understand the technological process of producing freeze-dried lemon. . In this article, SUNSAY freeze dryer would like to share the production process of freeze-dried lemons to ensure quality, high economic efficiency and gain the trust of everyone.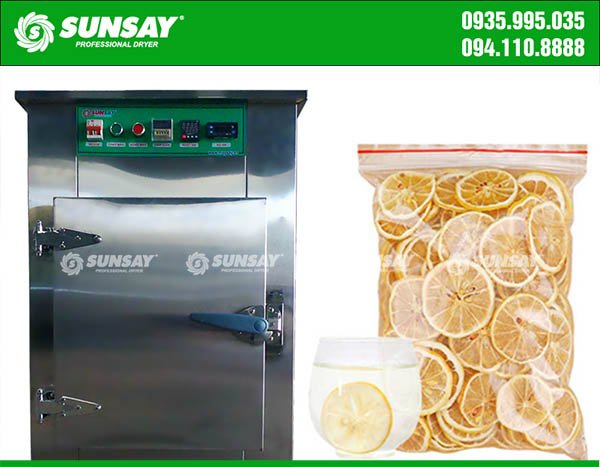 Production process of freeze-dried lemons by SUNSAY . technology
Freeze-dried lemons are produced by SUNSAY freeze-drying machine in four basic steps:
Step 1: Choose your ingredients
Lemon ingredients to freeze-dried into detox need to be carefully selected so that the freeze-dried lemon product has a beautiful color and quality.
The selected lemons must be fresh, succulent lemons, in the production process, no growth stimulants or food preservatives are used so as not to affect the health of the user. If you want lemon products after drying to have beautiful colors and shapes, you should not choose those with rough, crushed or damaged skin…
Step 2: Treat raw materials before drying
After being harvested, the lemons will be washed under clean running water to remove dirt such as soil, dirt, microorganisms, etc., so that the frozen lemon products after drying have the best quality. To remove the essential oil from the lemon (lemon peel essential oil can cause bitterness), you need to soak the lemon with salt water, gently rub it so that the essential oil is removed.
When the lemons have been washed and drained, sand the lemons into thin slices for drying, evenly cut the slices about 3-4 mm. Note that when cutting, you need to use a sharp tool and cut it firmly so that the lemon slices are beautiful and do not lose too much water.
Step 3: Dry the lemons with SUNSAY cold dryer
Proceed to arrange lemon slices on each drying tray of SUNSAY refrigerator. In the process of stacking, it is necessary to pay attention to how to arrange the dried lemons so that they do not overlap, hindering the process of heat exchange and moisture drainage as well as air circulation so that the lemons can be dried as quickly as possible.
The temperature for drying lemons on the SUNSAY freeze dryer is customized from 20 to 55 degrees Celsius, the drying time depends on the technical requirements for the production of freeze-dried lemons. The drying time and moisture loss are well controlled by the intelligent control process on the SUNSAY freeze dryer to ensure that the freeze-dried lemon products retain their flavor, color and nutritional composition.
Step 4: Pack and label freeze-dried lemons
After completion of drying, freeze-dried lemons will be packed into bags of 50 to 500g for distribution to the market. Exported products are usually packed with larger sizes and weights, which can be from 5 to 20 kg per unit. The packaging stage can use a specialized packaging machine for freeze-dried lemons. Products before being released to the market are labeled with the brand name that you are building or as required by the partner. For production technology of freeze-dried lemons by SUNSAY freeze dryer, you can use the phrase "cold-dried lemon" to distinguish it from other traditional hot drying methods to help customers easily identify product quality. and increase the sales value of your brand.
Uses of freeze-dried lemons
Regulate blood pressure: The potassium content in lemon helps to regulate blood pressure in the body, thereby fighting depression and stress, reducing feelings of discomfort and sudden dizziness.
Strengthen the immune system.
Diuretic and detoxification: Lemon has a diuretic effect by stimulating the kidneys to work to increase water production, in addition, the citric acid in lemon helps maximize enzyme function, stimulates the liver and aids in detoxification.
Support weight loss: the ingredients in lemon will expand when it meets the water contained in the stomach, cutting hunger, from which the body no longer feels.
Treats high blood pressure: The pectin found in lemons can help lower cholesterol that causes high blood pressure.
Improves digestion: lemon juice contains the same atomic composition as powdered water and chloric acid. As a result, liver function is significantly improved, increasing the production of bile – an essential acid for the digestive system.
SUNSAY freeze dryer used to produce freeze-dried lemons
In order to produce a product that meets the quality requirements and export standards, in the process of processing freeze-dried lemons, in addition to lemon raw materials and the technological process of processing freeze-dried lemons, a freeze dryer is a drying device. very important. SUNSAY Refrigeration Machine is the leading prestigious supplier of equipment and production process for freeze-dried lemon in Vietnam. We are committed to being ready to accompany you from the preparation stage to operation and also for a long time when the factory goes into production.
Contact for sample drying and ordering SUNSAY
SUNSAY Vietnam with the mission of improving the processing and preserving value of Vietnam's post-harvest agricultural products, contributing to solving the post-processing stage of the fruit industry. SUNSAY Refrigeration Dryer is researched and manufactured by a team of experienced Vietnamese engineers, we are proud to be the dryer manufacturer that ensures the standards of quality, food safety and hygiene.
Please contact SUNSAY Vietnam immediately for more information on prices and food drying technology process. With a reasonable price, SUNSAY Vietnam believes that this device is completely worthy of your investment and use in the long run, bringing the best efficiency.​​
To ensure the quality of freeze-dried lemons is delicious and retains their color, good nutritional composition, and meets export requirements. Please contact SUNSAY Cooling Dryer for the best advice and support. Contact information: +84 94.110.8888