Wood chipper machine, also known as a wood chipper machine, the function of the machine is to directly chop wood and cover wood into chips. The finished hash is used for many purposes such as exporting, burning furnaces, as biological buffers in agriculture.
1 ton wood chipper is an industrial wood chipper with a hashing capacity of 1 ton/1 hour, the machine uses an intelligent electrical control system, saves energy, works durable, high-class wood chipper, All materials are made of steel with a thickness of over 10mm, solid structure, effectively improving woodworking productivity.
1 ton wood chipper has 3 main types: the type that uses a nozzle to spray on trucks or containers, the bottom blower type that is used in the chain using a wood conveyor and the mini oil-powered wood chipper.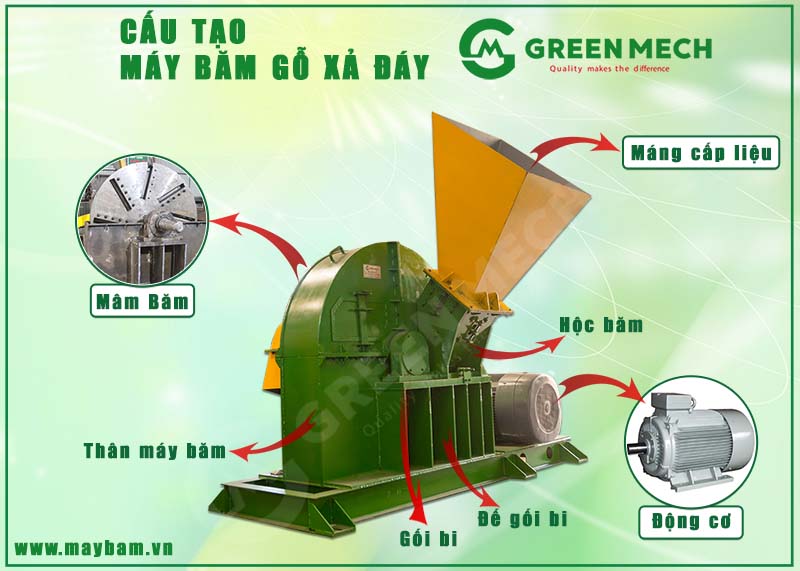 The general structure of the wood chipper machine will include the following main parts: The chopper box, the chopping board, the chopping knife, the chip size adjustment mechanism, the motor, the electrical cabinet, the feed trough.
Machine box:
Designed according to Japanese standards, with a solid structure, the steel is made with a thickness of 10mm or more.
Body and frame manufactured according to industry standards assembled with steel materials, sturdy design with high durability and stability
Chopper motor
Powerful wood chipper motor: Origin, Made in Japan. Optimally designed for each type of wood.
Ball pillow & ball pillow
Ball bearings, bearing and wear-resistant bearing bases imported from Japan, are designed with a high safety factor to help stabilize during long-term work.
Choppers and chopper assemblies
Wood chipper uses high quality materials with large thickness to create large and powerful chopping force. The chopping knife cluster is manufactured on an automatic CNC machine system and the knife material is made in Japan with high hardness, high wear resistance, easy to sharpen or replace.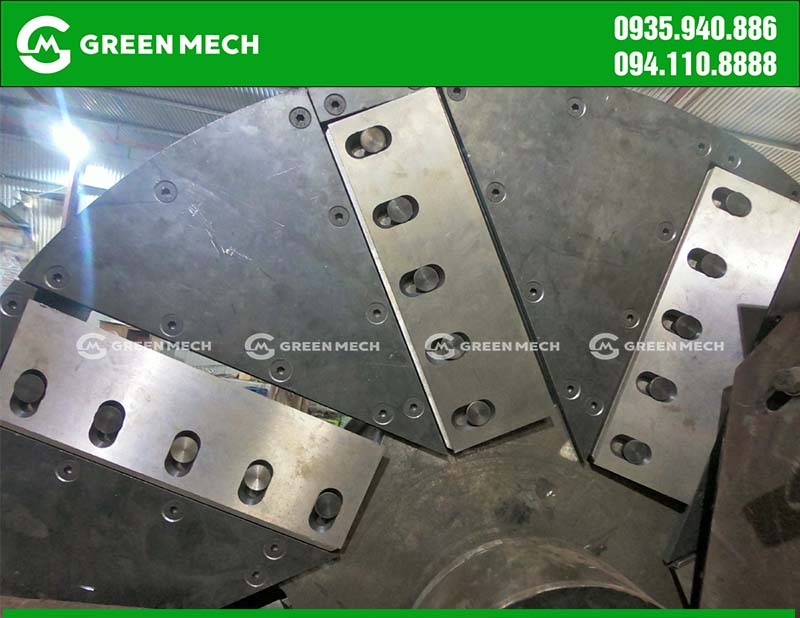 Control cabinet
Smart control electrical system, receiving power from soft hardwood to automatically adjust the amount of wood supplied to the machine, helping to increase the efficiency of the machine and prolong the life of the machine.
Pictures of 1 Ton wood chipper machine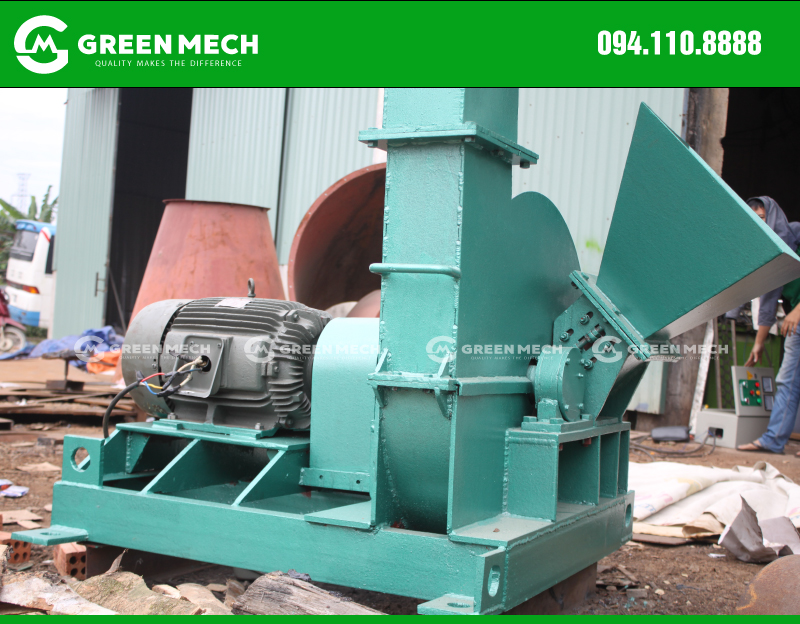 Quality wood chipper supplier
GREEN MECH wood chipper is a product researched and manufactured in Vietnam based on Japanese technology by engineers with more than 15 years of experience specializing in the field of exporting wood chips and suitable for all types of wood grown. in Viet Nam.
The mission of GREEN MECH is to improve the processing value of forest products, contributing to solving the post-processing stage of the forestry industry. GREEN MECH wood chipper ensures standards of quality, safety and efficiency.
GREEN MECH always offers reliable quality and excellent after-sales service of wood chipper which helps us gain a lot of trust from our customers.
Price of wood chipper GREEN MECH ONLY
GREEN MECH wood chipper is designed according to industry standards with reasonable price, GREEN MECH Vietnam brings you a completely new, time-saving solution. The GREEN MECH wood chipper is absolutely worth your investment and use for a long time, bringing the best efficiency.
Liên hệ tư vấn Yêu cầu gửi báo giá
GREEN MECH wood chipper offers a completely new and time-saving solution, reducing investment costs for users, bringing high economic efficiency.
For detailed advice about GREEN MECH wood chipper, please contact Hotline (Zalo): 0935.940.886   or call center: +84 94.110.8888 for support.​