Litchi is a fruit with many nutrients and delicious taste. However, to be able to preserve it for a long time, you need to know how to dry the fabric properly. The following drying methods will give you a lot of useful information when you want to dry fabrics and preserve them for a long time.
What are the health benefits of fabric?
It is not by chance that lychee is becoming more and more popular. The fabric is even exported to foreign countries. In addition to the delicious taste, litchi also has many health benefits.
When used in moderation, litchi can enhance resistance to the heart and strengthen the immune system, anti-aging eyes. Lychee contains many vitamins and minerals that are good for the body when used. Not only that, litchi can also fight cancer cells very effectively.
Litchi contains a lot of soluble fiber. Therefore, when used, it can help the digestive system work better because it can eliminate many toxins in the stomach. Not only that, litchi also provides nutrition, helps beautify the skin, has high vitamin C anti-oxidant and fights skin inflammation.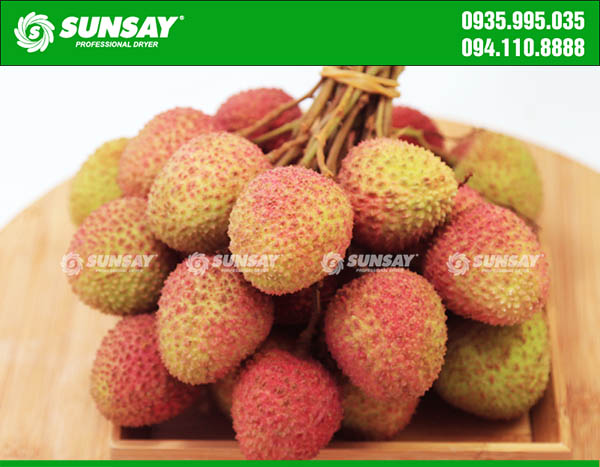 What are the current ways to dry fabrics?
In fact, there are many different ways to dry fabrics today. In which you can apply manual drying or modern drying depending on your needs and finances. 
How to dry fabric manually
With this drying method, you can use an oil-free fryer or use a microwave, oven, or direct sunlight. Each method will have its own advantages. 
These manual drying methods have the advantage that the preparation of drying materials is quite simple, easy to find and cost-effective. The method is not too complicated. However, the quality of the dried fabric is not high enough and the preservation is not long-term. Moreover, the fabric after drying does not ensure food hygiene and safety and the competitiveness is also lower.
How to dry fabric with a modern dryer 
In modern society, drying fabrics with a modern dryer is the most popular drying method. SUNSAY dryers are now sought after by many people to dry fabrics and other fruits and foods. Because it brings many advantages such as shortening drying time, giving quality finished products and reducing labor costs.
How to dry fabric with a SUNSAY dryer is not too difficult, you just need to select ripe lychees, then pre-process and wash them to drain. Then you take turns placing the fabric in the drying tray, avoiding stacking so that the drying process can be done efficiently and with the best quality.
Users can also manually adjust the drying temperature and drying time with the adjustment screen button on the outside of the machine. After drying, the lychee will have a delicious characteristic flavor with a strong sweet and fragrant aroma. When eating dried lychee, it will be flexible and nutrients are retained to the maximum.
You can use glass jars or zip bags to preserve the fabric after drying. Or businesses can pack to export to the market with a long preservation time.

Video drying lychee by horizontal dryer – This is a line of specialized agricultural dryers with low investment cost compared to other dryers in terms of capacity.
What drying method should be used to get the best quality of the finished product?
In general, each drying method will bring different advantages and disadvantages. With manual fabric drying, you do not need to spend too much investment. But the finished product after drying may be deformed, not keeping the taste, color and nutrition. Meanwhile, SUNSAY dryer can keep color, taste, nutrition, faster drying time and ensure food hygiene and safety. 
The preservation time of the fabric when using the dryer method is also higher. Therefore, using a cold dryer to dry fabrics is the best solution that you should refer to. Currently, there are also many units providing refrigeration dryers, including SUNSAY Vietnam, so you can rest assured to choose and use.
With advanced and modern drying technology, SUNSAY dryer can meet all user requirements. In addition to drying cloth, you can also use it to dry many different fruits and foods. Smart dryer design with automatic drying feature, high quality of finished products, fast drying time, saving energy for all users.
You can also use it to dry fabrics in large quantities for production needs. The price of the product is also quite affordable compared to the market. Therefore, you can contact SUNSAY Vietnam via hotline +84 94 110 8888 to order today.
With the information on how to dry fabrics shared above, hopefully you have gained more useful knowledge. Choose for your production facility the most convenient, optimal and quality drying solution by contacting SUNSAY Vietnam for the fastest support.