How to build a flake ice machine is a content that is attracting the attention of many people. Flake ice machines with superior applications are increasingly replacing traditional ice machines. Many users have been appreciating the quality of this product. However, not everyone understands the structure of the product as well as the detailed parts, benefits and roles of each part for the operation of the ice machine. Let's learn about the structure of this machine in the article below. 
How to build flake ice machine?
Are you wondering about the structure of the flake ice machine? This is also what many customers today need to find out before deciding to buy this product to serve their production and business needs. Flake ice machine is a combination device from different parts whose main function is to make flake ice for daily needs of people. Flake ice machine is a complex equipment with a system of superior equipment. The flake ice machine is composed of the following main parts: 
Machine parts
The mill unit has a circular cylindrical design, this part consists of 2 cylinder layers. In between these two layers is the liquid medium. The die is considered one of the most important parts of the flake ice machine.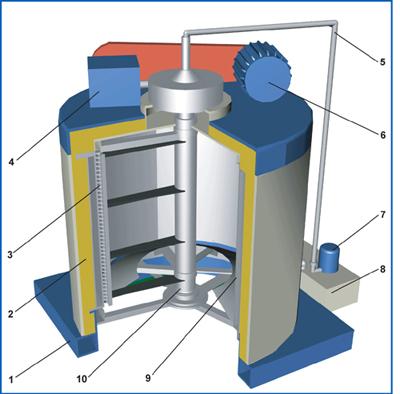 Structure of flake ice machine – refrigeration compressor parts
The flake ice machine structure also has a refrigeration compressor. The refrigerant compressor used in the flake ice machine is a single-stage refrigeration compressor. The use of this device is to create a superior energy flow, thereby helping the cooling process to take place extremely quickly. This is also one of the advantages that helps the flake ice machine to have the ice making process very quickly. 
Parts of the liquid separator of the machine 
The flake ice machine uses a liquid separator to maintain the most stable liquid level to provide the ice mortar for efficient operation. In addition, the liquid separator also has a very effective liquid separation effect. 
Stone storage system
Ice storage is a device used to store ice after it has been created. The ice storage is located right below the stone mortar to facilitate the storage of ice. Ice storage is made up of insulating panels of appropriate thickness, both capable of keeping ice for a long time and ensuring safety. The area of ​​the ice storage does not have a standard size. The size of the ice storage depends on the capacity of the machine as well as the requirements of the ice in use.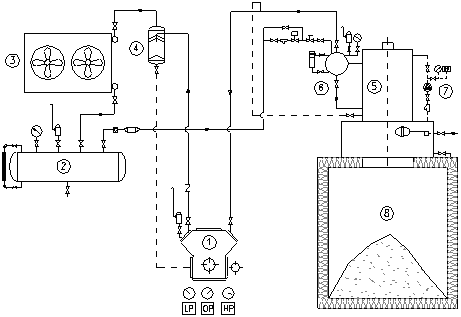 Structure of flake ice machine – container equipment
Bình chứa trong máy làm đá vảy nhỏ hơn rất nhiều so với các loại máy khác. Trên thực tế, hoạt động của máy làm đá vảy không cần dùng quá nhiều đến môi chất, vì thế giảm được rất nhiều chi phí cho việc đầu tư bình chứa. Mỗi bộ phận của máy tạo đá vảy có chức năng và nhiệm vụ khác nhau, cả hệ thống vận hành một cách hết sức linh hoạt góp phần tạo nên một chỉnh thể hoạt động hiệu quả. 
Find out a reputable flake ice machine supplier
Flake ice machines are currently appearing in many establishments that provide this item. To choose a good flake ice machine, you should learn carefully about the structure of the flake ice machine, understand the functions and tasks of the machine, how to operate the machine.
In particular, to find a quality flake ice machine, you should learn carefully about a reputable supplier in the market. Because there are many addresses that provide poor quality and unreliable ice machine products, which greatly affect the user's use process. Therefore, you need to be careful when looking for these companies.
Green Technology is an address you can refer to when you are looking to buy quality flake ice machines on the market. Our products meet all requirements of customers in terms of design as well as effective quality when used. The price of the current flake ice machine offered at the unit is also very affordable and not expensive, so customers can be completely assured of the quality.
The structure of the flake ice machine provided by Green Technology meets the technical requirements according to international standards. When buying at Green Technology, especially buying flake ice machines, you will experience the most professional and preferential services exclusively for you. To be able to quickly buy quality flake ice machines, please contact Green Technology immediately by phone number +84 94.110.8888 or website: https://kynghexanh.com/ for advice.