Equipment for handling fine dust by Bag Filter. Rotary barrel dryer is a drying device for materials such as sawdust, wood chips, sand, rock, etc.
Fine dust treatment device with Bag Filter removes dust with high concentration
Introducing the Bag Filter
A bag filter is an air pollution control device for removing dust particles from the air or emissions from commercial processes or combustion for power generation where collection efficiency is required. high.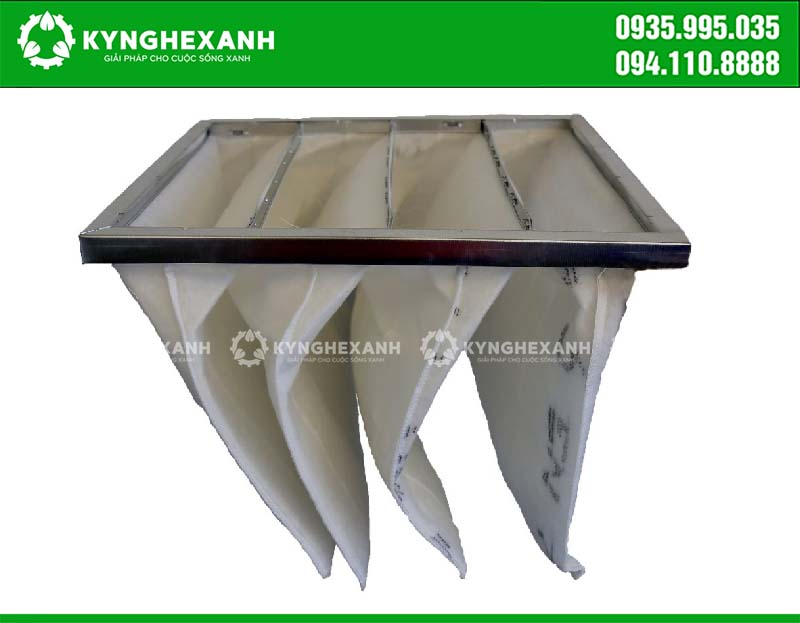 Bag filter is used in bag house. Most sheds use long, cylindrical bags (or tubes) made of woven fabric or felt as the filter media. Dusty gas or air enters the bagger through hoppers (large funnel-shaped containers used to store and distribute seeds) and is directed into the bagger compartment.
Air is drawn through the bags, either inside or outside depending on the cleaning method and a layer of dust accumulates on the surface of the filter media until air can no longer move through it. When the pressure is reduced enough (delta P), the cleaning process begins. Cleanup can take place while the brothel is online (filtering) or offline (isolation). When the compartment is clean, normal filtration will continue.
Main features of the filter dust treatment system
– Filter dust treatment technology is better than other technologies for dust treatment.
– Products that treat dust with Filter have a filtering efficiency of up to 99%+, compared to other products.
Principle of fine dust filtration
After the exhaust gas passes through the dust treatment system by Bag Filter, the cloth bag system is retained, and the dust accumulated on the cloth bag, after a certain time, will be automatically pulsed by the system. compressed air) into the filter bag, making the dust no longer cling to the cloth bag and fall to the dust container.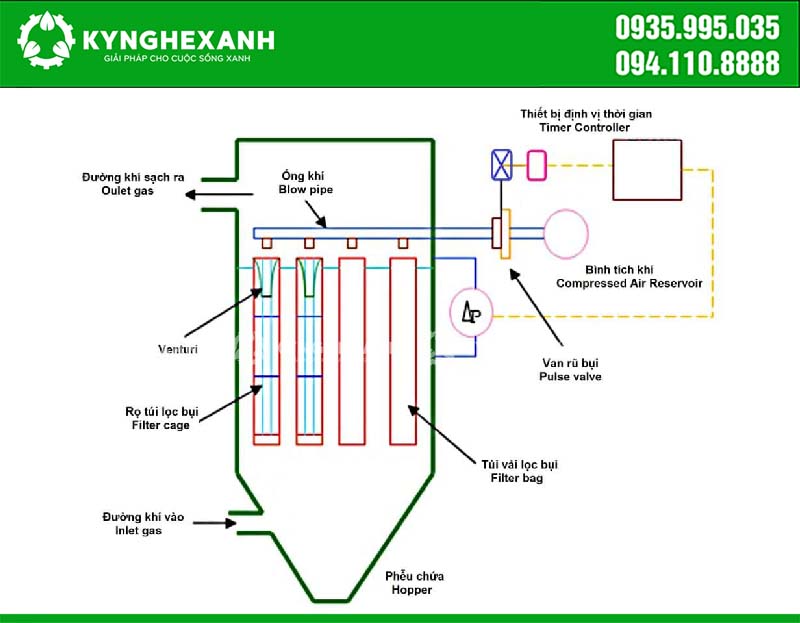 The filter works on the principle of the filter as an automatic cleaning bag filter. Each filter bag is periodically shaken and cleaned by a jet of high-pressure air coming out of the compressed air tank.
Pressurized air is distributed to each row of filter bags by means of a diaphragm valve and a bellows equipped with a hollow nozzle.
High-pressure air backflow temporarily stops normal flow and creates a shock wave that will suck dust off each bag surface. A certain percentage of the cake powder falls from the bag into the dust filter chamber.
Advantages of fine dust treatment equipment with Bag Filter
Capable of collecting various types of dust.
Easy to design and install.
Stable operation for a long time.
The ability to filter dust up to 99% +.
Stable operation
Relatively high dust filtration efficiency
Low maintenance cost
Construction cost, cost of materials and equipment is cheap
Low running costs
Dust is recovered in dry form, so it can be reused
Equipment resistant to high temperature, corrosion
Takes little space to build
Long use time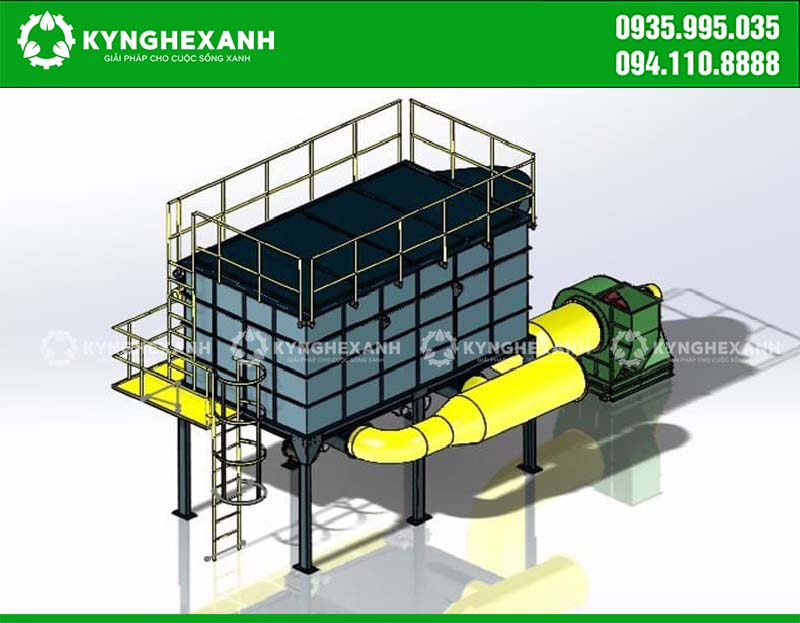 Application
Asphalt mixing station
Cement plants.
Cement, plaster, lime industry.
Metal factory.
Biomass power plant
Food factory.
Origin ceramic factory.
Chemical industry
Coal-fired power plants, food industry
Rubber factory.
Pharmaceutical factory.
Textile factory.
Fertilizer factory.
Steel and non-ferrous metal production, Solid/liquid separation
Food factory, grain factory…
Contact for consultation and get a quote for Fine dust treatment equipment with Bag Filter, please contact phone number (Zalo): 094 110 8888