Đá viên được làm từ máy làm đá viên tinh khiết, đá viên vừa mới ra lò chưa được làm già hoàn toàn, các tinh thể nước bám trên bề mặt vẫn đang được làm tan chảy thành nước. Vì vậy cần phải có kho lạnh để bảo quản đá viên trong thời gian nhất định khoảng 1 tiếng để đá có thể tự kết dính trở lại, khi đó đá sẽ lâu già hơn. , đẹp hơn, chất lượng tốt hơn và chắc chắn hơn trước.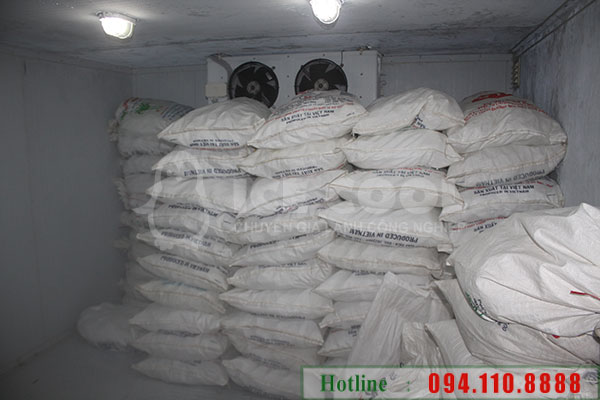 Một khối nước đá là gì?
Đá viên đang là sản phẩm được ưa chuộng hiện nay, không chỉ ở các thành phố lớn như Hà Nội, TP.HCM, Hải Phòng, Huế, Đà Nẵng … mà các tỉnh thành trên cả nước đã và đang sử dụng đá viên trong cuộc sống hàng ngày, đặc biệt là ở mùa hè sắp tới.
Quy trình hoạt động của nhà máy sản xuất nước đá viên
Ice machine – Turn on – Ice machine works (Water automatically enters the ice mortar, the cooling system runs the valves to start closing, discharging cold air into the mortar) – about 15P defrost (Depending on the technology of making the ice machine, there are defrost time is fast or slow) – Packing – Putting in cold storage to preserve ice cubes – Exporting to the market.
Attention to investment in cold storage to preserve ice cubes
The temperature in cold storage for storage must range from -5 to -1 degrees Celsius.
– When arranging ice cubes, we need to arrange ice on pallets or on wooden slats under the cold storage floor and arrange in rows one by one, each row must be spaced a few centimeters apart. At that time, the cold air circulation in the warehouse will be good and the ice will be old enough for the whole cold storage, but if stacked without foundation and without space, the ice will melt into water. and will flow to the floor of the cold storage.
The material for the shell of the cold storage to preserve ice is usually made of 100mm thick EPS panel.
The material for the door of the cold storage will be 304 stainless steel and PU foam insulation. It is recommended to use 10cm thick EPS Panel material as a cold storage cover to preserve ice cubes. Good materials need to have a high density from 18kg/m3 to 22kg/m3.
– The door of the cold store to store ice needs to have insulation curtains and the cold storage door will usually make 2 doors, one door to import ice and one door to output ice.
– Install insulation curtains for cold storage doors for better preservation.
– The refrigeration system of cold storage usually should use air conditioners that run on gas R404a or use semi-hermetic air conditioners so the temperature can drop quickly. Air conditioners need to run strong and durable.
Benefits of using cold storage to store ice cubes
Currently, ice cubes are used a lot in life. Especially, ice cubes appear popularly at refreshment bars in Vietnam. Many households also regularly use ice cubes without having to buy a refrigerator. Therefore, it is necessary to store ice cubes more and longer to meet the needs of people.
Limit the situation of pure ice cubes melting in a certain time.
Saving power consumption leads to savings in overall costs (the cooling system in the warehouse has the ability to increase and decrease the temperature quickly and efficiently, so it consumes less electricity).
Can meet the need of continuous cooling.
It does not cost too much labor because the control system works on the main principle of automation.
Nếu bạn đang có nhu cầu lắp đặt hệ thống kho lạnh bảo quản nước đá, máy làm đá với chất lượng cao và giá thành cạnh tranh nhất trên thị trường, hãy đến với ICE COOL Việt Nam – đơn vị cung cấp kho lạnh bảo quản đá viên hàng đầu tại thị trường Việt Nam. Không những vậy các chính sách bảo quản của chúng tôi sẽ giúp hệ thống kho lạnh của bạn hoạt động hiệu quả và nâng cao tuổi thọ cho kho lạnh công nghiệp của bạn.