Chamomile tea is a product that is used by many people because of the special benefits it brings to users' health. However, in order for this tea to be used for the longest time, people often preserve it by cold-dried chrysanthemum production equipment . Thanks to the freeze drying technology, the time to use chrysanthemum flowers is longer.
Some health benefits of freeze-dried chrysanthemums
Before learning about some equipment for producing freeze-dried chrysanthemums, we will take a look at some of the health benefits of this chrysanthemum product.
Freeze-dried chrysanthemum tea helps support heart health
Did you know, every year the amount of chrysanthemum tea used in Vietnam increases a lot. One of the reasons many people use this tea is that they are so good at supporting a healthier cardiovascular system.
According to experts, chamomile tea contains high levels of flavones, which are an extremely effective antioxidant. This substance has the ability to reduce blood pressure as well as cholesterol levels in the body. Thereby significantly improving the health of the cardiovascular system in the human body.
Freeze-dried chrysanthemum tea for healthy eyes
Another use of freeze-dried chrysanthemum tea that many people care about is to give you a healthy bright eyes. Regular use of chrysanthemum tea helps improve vision for people who often experience conditions such as blurred vision, limited vision, eye pain, etc.
Freeze-dried chrysanthemum tea helps to support frequent insomnia
Your health will be greatly reduced if you often have insomnia, do not sleep deeply. To improve this situation, freeze-dried chrysanthemum tea is one of the most effective and safe solutions today. Chamomile tea helps you to have a good night's sleep, sleep more deeply. So, use this tea regularly to improve your health.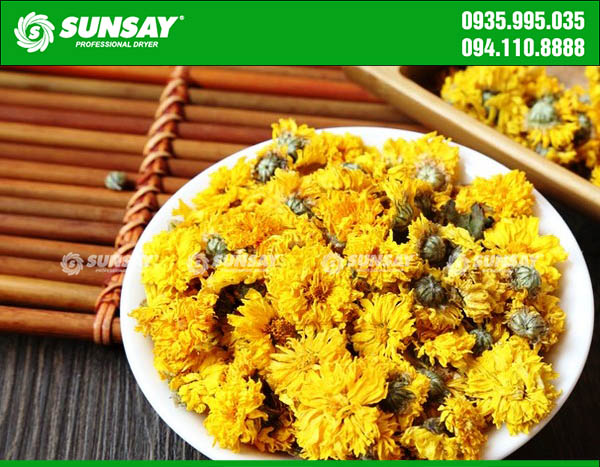 What is the best quality freeze-dried chrysanthemum production equipment today?
Freeze-dried chrysanthemum products are likened to a miracle medicine that helps to significantly improve your health condition. Therefore, the production of this product line with quality and efficiency is also something that many people are interested in today.
To get quality products requires you to use high quality freeze-dried chrysanthemum production equipment. On the market today, there are various lines of equipment for the production of freeze-dried chrysanthemums with different capacities and prices. Depending on the needs and purposes of use, you can choose the appropriate type of cold dryer.
However, to ensure the most prestigious and quality product line of freeze-dried chrysanthemum production equipment today, come to SUNSAY right away. Proud to be one of the leading units in the Vietnamese market specializing in providing a wide range of high quality refrigeration dryers, SUNSAY is always ready to serve customers. 
From small capacity machines to industrial refrigeration dryers , SUNSAY always uses genuine, safe and quality spare parts. Do not hesitate any longer, pick up the phone and call us immediately via hotline: +84 941108888 to own the most modern dryer line. We are committed to bringing you products of the highest standard.